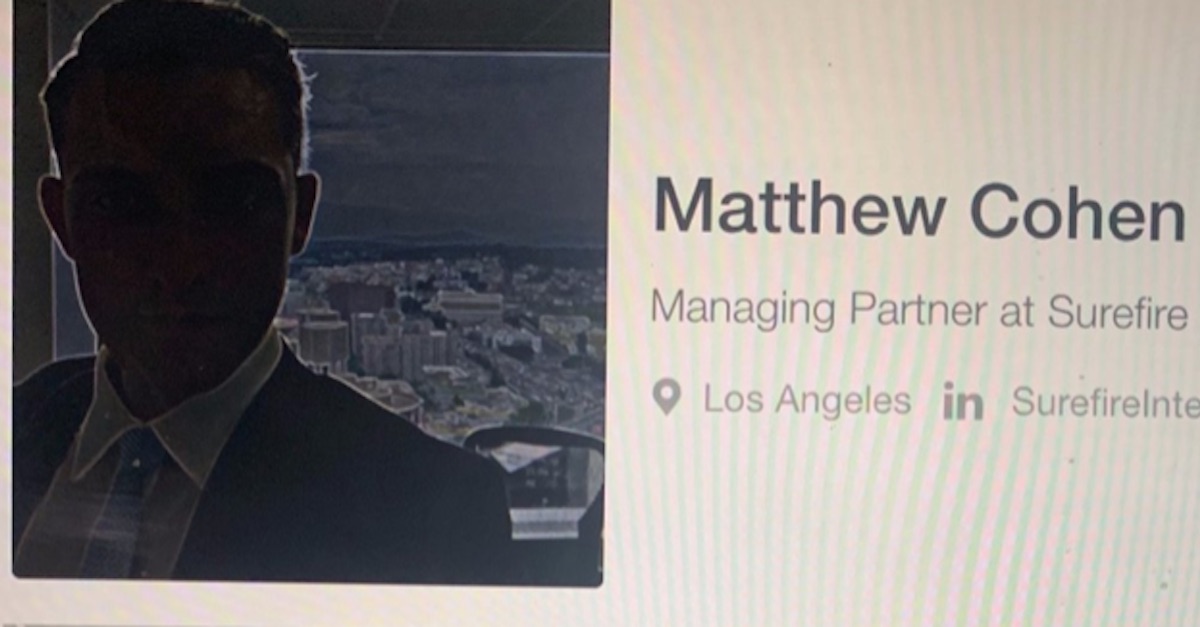 So, fresh off of the infamous Jacob Wohl–Jack Burkman presser, in which the pair baselessly accused Special Counsel Robert Mueller of sexual assault, the much-mocked pseudo-investigative firm of Wohl's, Surefire Intelligence, is back in the news again. Why? Because there's speculation that Surefire Intelligence was behind a police report claiming that anti-Trump attorney Michael Avenatti struck a woman.
Why? Because the Surefire Intelligence Twitter account appeared to take credit for Avenatti's arrest.
How else is one to interpret the tweet "Surefire Intelligence strikes again" — a tweet also making reference to Avenatti's arrest on suspicion of felony domestic violence.
First, let's review some context about Surefire Intelligence.
Surefire Intelligence was eventually found to be Wohl's operation, despite his initial denial of involvement. Right-wing site Gateway Pundit revealed that the initial story they ran containing allegations against Mueller was "authored by Jacob Wohl himself." They identified Wohl as a "journalist and founder of Sure Fire Intelligence."
Before that ever happened, it was discovered that an email address with Wohl's name on it was linked to the domain registration of Surefire Intelligence. Online profiles for purported employees of the firm were transparently fictitious. Managing partner "Matthew Cohen's" profile featured a picture that was quickly found to be a photo of Wohl. It is the one pictured at the top of this article.
Conveniently, Gateway Pundit has posted an article about the Avenatti situation: "Jacob Wohl Speaks Out on Avenatti Threat: 'Did I Mind-Control Him and Force Him to Beat a Woman?… He Should Have His Bail Revoked.'"
All of that aside, Michael Avenatti has denied that he has ever struck a woman, and added that he expects to be "fully exonerated." His two exes both released statements saying he has not abused them and would never hit them.
Christine Avenatti Carlin:
I have known Michael Avenatti for over 26 years we met when he was 21 years old and we were married for 13 years. Michael has ALWAYS been a kind loving father to our two daughters and husband to me. He has NEVER been abusive to me or anyone else. He is a good man.
Lisa Avenatti-Storie:
I haven't see Michael in months. It's a complete fabrication. It's a lie. It's all a lie. Bruises on my face? It is insanity. He wouldn't hit anybody. Especially a woman. He's got 2 daughters.
It was Avenatti-Storie who TMZ initially said was the "estranged wife" victim in this case, but she quickly denied that through her attorneys. Avenatti claims that he has "not been charged with anything, let alone a felony." He also questioned TMZ's news-gathering.
Right now there are a couple of problems: LAPD did confirm when asked by Law&Crime that "Yes, there's a victim in this case," but we don't know who that is. We also don't know which facts are accurate and which facts aren't. Plus, character witnesses are disputing Avenatti would do this.
Police did tell the Associated Press that the victim had visible injuries. This explains the seriousness of the felony charge. Bail was also set at $50,000.
Attorney and celebrity legal expert Jill Stanley told Law&Crime that the LAPD would only have made this arrest if they regarded the accuser as credible; that is, probable cause was there.
"If she was a credible witness, that is sufficient," she said. So we have a victim and we have visible injuries, but where did those injuries come from? The victim says Avenatti caused them and Avenatti denied it. It remains to be seen if information about a hospital visit, eyewitness testimony, or surveillance footage exists.
The timing of this is also notable. In just the last few weeks this has happened: Avenatti was hit with a $4.85 million verdict after being sued by former law partner Jason Frank. His client Julie Swetnick's sexual misconduct claims against Supreme Court Justice Brett Kavanaugh have been referred to the DOJ for a criminal probe. A federal judge dismissed Stormy Daniels' lawsuit against President Trump and allowed Trump to seek legal fees. The Michael Cohen defamation suit isn't going well. Now this, as Avenatti mulls a possible run for the presidency in 2020.
But back to Surefire Intelligence for a moment. Avenatti certainly saw the "intelligence firm's" aforementioned tweet and said: "First Mueller and now me."
"When we are fully exonerated I am coming for you Jacob Wohl aka Surefire," he added. Law&Crime reached out to Avenatti for comment on what he meant by that, but it stands to reason that he would pursue a defamation case.
Jill Stanley confirmed that, if this was a false accusation as Avenatti claims, significant damages have been caused to Avenatti's reputation and he could pursue a defamation case.
For example, the allegations have already impacted Avenatti's promised 2020 presidential run.
Avenatti was scheduled to hold events with the Vermont Democratic Party this Friday and Saturday. Those events were cancelled after this news came out, according to the Burlington Free Press. There's also the very real possibility that this would harm Avenatti's law firm business.
And make no mistake, if Wohl was behind this as the Surefire Intelligence tweet suggested, he's looking at possible jail time for filing a false report (if it is indeed false).
California Penal Code 148.5 says the following on filing false reports:
Every person who reports to any peace officer listed in Section 830.1 or 830.2, or subdivision (a) of Section 830.33, the Attorney General, or a deputy attorney general, or a district attorney, or a deputy district attorney that a felony or misdemeanor has been committed, knowing the report to be false, is guilty of a misdemeanor.
A misdemeanor in California is a crime punishable by no more than 364 days in county jail. In other words, if the misdemeanor is seen as egregious enough it could result in just technically under a year of jail time.
Avenatti says that "numerous other 'facts' being reported are completely bogus."
He's probably referring to statements attributed to him by TMZ –"She hit me first" and "This is bullshit. This is fucking bullshit" — as well as the allegation that the alleged victim's face was "swollen and bruised."
The statements do sound like something out of the cult classic, "The Room."
A lot of the gaps would be filled in with the release of police report, but LAPD has not made it public or commented in specificity on the incident as a matter of policy. Nor has Avenatti commented with specifics about the incident that was or wasn't. Nor has the alleged victim been identified.
Wohl, "Head of the Most Well-Known Opposition Research Firm in the World," claims he has "nothing" to do with the Michael Avenatti situation, despite Wohl's known link to Surefire Intelligence. Even if it turns out that Wohl is telling the truth, anyone looking at Surefire in connection with this will likely want to at least investigate him. It's worth mentioning that Mueller's office confirmed the nature of the false allegation story put out there by Wohl and Burkman weeks ago, and said that the matter had been referred to the FBI. Additionally, Wohl has been accused of fooling a "desperate" woman into paying him for a sham private investigation.
He also claimed he "just filed a police report about Michael Avenatti's threat."
In conclusion, there seems like there are a couple of options here.
Option 1: Avenatti did what's been alleged and should be punished accordingly.
Option 2: Avenatti didn't do it, Surefire Intelligence set him up somehow, as indicated in the tweet, and those connected with it could be in legal trouble.
Option 3: Avenatti did it, Surefire Intelligence got involved to bait Avenatti into blaming a troll for his legal problems in an attempt to make him look desperate and more guilty.
Option 4: Avenatti didn't do it, Surefire Intelligence got involved to bait Avenatti into blaming a troll for his legal problems in an attempt to make him look desperate and more guilty.
[Image via LinkedIn screengrab]
Have a tip we should know? [email protected]