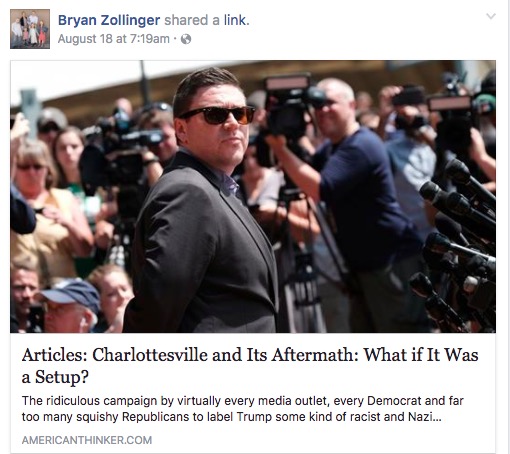 An Idaho state representative is doing some backpedaling after posting an article promoting a conspiracy theory claiming that the Charlottseville riots could have been a set-up to make President Donald Trump look like a racist. State Rep. Bryan Zollinger (R) posted the article on his Facebook page.  His comments, in which he claims the theory is "plausible," are drawing even more controversy.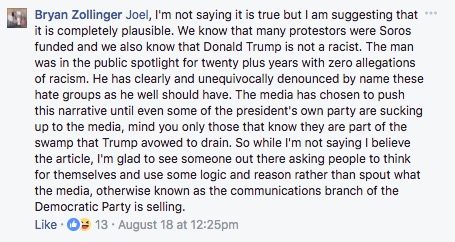 "I'm not saying it is true but I am suggesting that it is completely plausible. We know that many protesters were Soros funded and we also know that Donald Trump is not a racist," he wrote. "So while I'm not saying I believe the article, I'm glad to see someone out there asking people to think for themselves and use some logic and reason rather than spout what the media, otherwise known as the communications brach of the Democratic Party is selling."
Zollinger, who is also a local attorney, was responding to a comment by Joel Agate who was upset that the lawmaker posted the conspiracy theory article to begin with.
"As we've seen throughout the campaign and the beginning of his presidency, no one has to do anything to make Trump out to be some kind of racist. These are his words, his responses to people who aren't rich, straight, white men. Nobody, except perhaps members of his own inner circle, is making him say these things," Agate wrote.
The original article, which was shared by Zollinger, was posted on the conservative news website American Thinker over the weekend. The piece claimed "the conflagration in Charlottesville is beginning to feel like a set-up, perhaps weeks or months in the planning." The author questions whether the "set-up" might have been the work of Charlottesville Mayor Michael Signer, Virginia Governor Terry McAuliffe, and President Barack Obama. The article and the subsequent commentary by Zollinger immediately drew some blow back.

Zollinger has posted a new comment apologizing if his comments offended anyone.
"I found some of the theories to be plausible and others to be to be maybe somewhat far-fetched," Zollinger stated. "I truly believe and try to live by the mantras of love one another and do good to those who hate you and pray for those that are cruel to you. If you ever feel I have not lived by this mantra or offended you, please contact me and let me apologize."
Have a tip we should know? [email protected]
Rachel Stockman - President / On Air Host