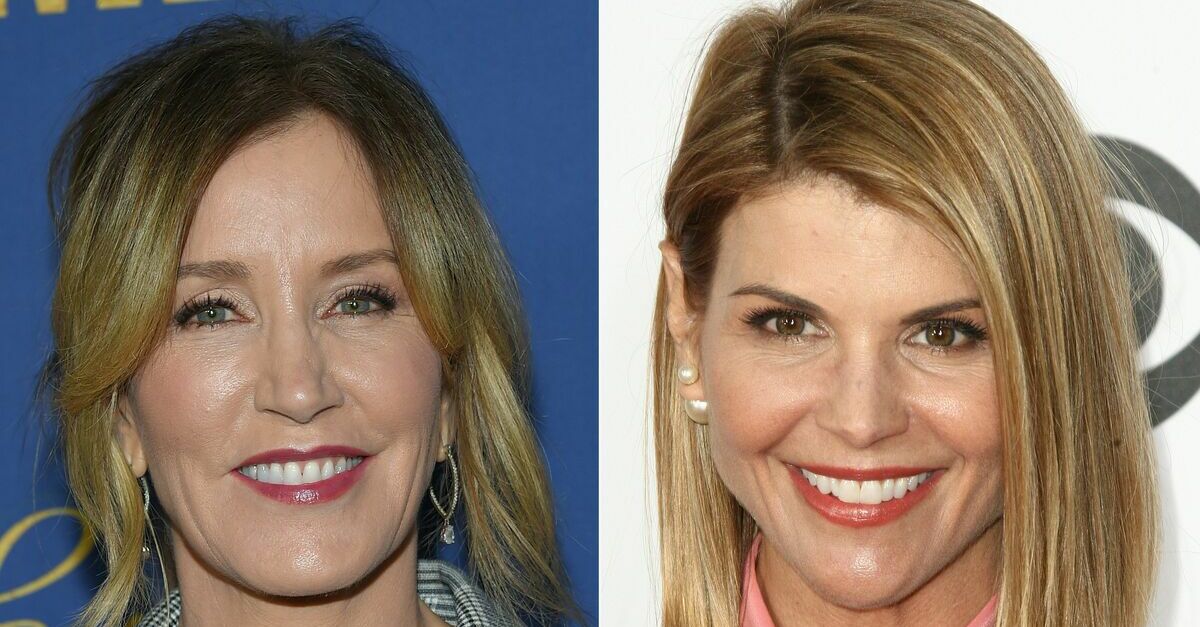 Actresses Lori Loughlin and Felicity Huffman were both accused on Tuesday of getting their daughters into college by way of various complex cheating arrangements facilitated by an allegedly fake charity based out of California.
Huffman allegedly paid The Key Foundation Worldwide $15,000 "to participate in the college entrance exam cheating scheme on behalf of her oldest daughter," according to the government's lengthy indictment. Loughlin allegedly made $500,000 worth of fake donations to the same charity in order to secure fake rowing profiles for both of her daughters–when neither daughter actually rowed.
So, are these parents actually facing prison time or might they manage to skate? Law&Crime asked the experts and they had answers.
Former Assistant U.S. Attorney and current Pace Law Professor Mimi Rocah thinks a little time behind bars is within the realm of possibility.
"Given the amount of money involved for each of them, particularly Loughlin, and the sophistication of the scheme, they would likely be facing jail time," Rocah told Law&Crime. "However, it will be within the sentencing Judge's discretion as to whether to follow the guidelines or not and a lot of different factors will play into that."
Trial attorney Page Pate ventured his guesses as to what any prospective sentences might look like for the embattled actresses.
Over the course of a series of emails, Pate said the time served in each case would depend "mostly on the 'loss amount' (how much money the government can tie to the alleged fraud)" and explained that "federal sentencing guidelines for fraud are primarily based on the amount of money involved, how sophisticated the fraud was what role the person played in the alleged scheme, and whether they were the 'leader, middle, [or] low-end.'"
With that in mind, Pate estimated that Full House's Loughlin was facing "37-46 months if convicted at trial" and between "27-33 months [if she enters a] guilty plea." Since Huffman is alleged to have spent quite a bit less, Pate estimated that the Desperate Housewives actress was facing "12-18 months if convicted at trial" whereas she would be looking at "8-14 months (or possible probation)" if she were to plead guilty.
Computer law expert and criminal defense attorney Tor Ekeland strongly disagreed with the rush toward punishment speculation.
"If they do any time for this it's absurd," he told Law&Crime via email. "Prison time? If that's how people think punishment should be meted out in America I'm leaving the country because in the grand scale of crime this is a minor one."
Julie Rendelman is a former prosecutor and currently a defense attorney working in New York City. She also serves as a host on the Law&Crime Network. While noting that it was "a bit early" to say anything for sure about potential time behind bars, Rendelman said it was a distinct possibility due to the actress' high profiles.
"My guess is that if the evidence is as strong as it appears, their attorneys will likely advise them to cooperate with the US attorney's office to provide information on other individuals in the scheme, and hope that their cooperation along with any potential mitigation will help them to avoid jail time," Rendelman said. "Keep in mind, that the government/presiding judge may want to make an example of them to deter the act of using wealth to manipulate the system."
Robert Bianchi is a former prosecutor and a current legal analyst and host on the Law&Crime Network. In an email to Law&Crime, he explained that the parents were fairly low on the ladder of importance here.
"I think they are second-tier defendants compared to those in official positions accepting bribes for years and making a lot of money to falsify testing and award athletic positions to non-deserving students," Bianchi said. "This is why [the officials] are charged with racketeering."
Huffman and Loughlin, on the other hand, were each charged for conspiracy to commit mail fraud and honest services mail fraud.
But Bianchi also took a similar position on the draw of prosecuting the rich and famous:
[A]s a prosecutor I would be seeking jail time for the rich and elite who countenanced and funded this bribery scheme, and by definition, stopped qualified and deserving students who worked hard and played by the rules their chance at taking one of those seats at the college(s). The arrogance and hubris of those parents who feel they can illegally flout their power and money is something I would make an example of, but again, to a lesser extent than the organizers.
[image via LISA O'CONNOR,TOMMASO BODDI/AFP/Getty Images]
Editor's note: this story has been amended post-publication to include an additional quotation and for accuracy.
Have a tip we should know? [email protected]