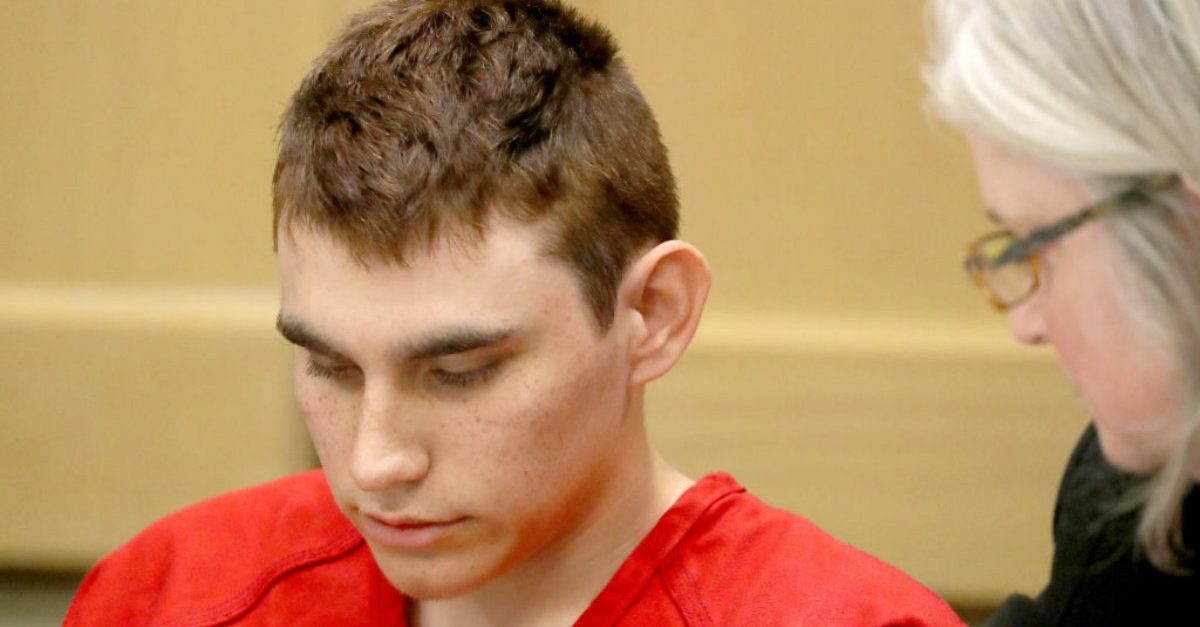 Here it is: the redacted version of Nikolas Cruz's confession after the attack at Marjory Stoneman Douglas High School last February 14. The entirety of the confession in transcript form adds up to 216 pages, if you subtract one page with the court reporter's certification on it.
Cruz has been charged with 17 counts of first-degree murder and 17 counts of attempted first-degree murder. His defense has voiced a willingness to plead guilty, but only if prosecutors agree to take the death penalty off the table. Here are some of the key takeaways from the 216-page confession.
1. Cruz Claimed to Hear a Voice.
The transcript shows Cruz telling the Detective John Curcio that he started hearing a voice in his head for years, since after his father died. He described it as a young man's voice, and it spoke to him once a day, "usually in the afternoon." Cruz said he would do what the voice told him to stop from being lonely.
He acknowledged building a fire pit because the voice told him to and said he killed wild birds.
"How does building a fire in a fire pit when you're listening to the voice keep you from being lonely?" Curcio said. "How does that work?"
"Because I have someone in my head who I can talk to about it," Cruz said.
The voice told him to buy the AR-15, he said, according to the transcript.
He said the voice told him the day before and that morning "to hurt people." Curcio asked what the voice said that morning, but the following page-worth of text is redacted.
One unredacted detail: the voice told him to take an Uber, Cruz said. Cruz allegedly took an Uber to Marjory Stoneman on the day of the shooting.
2. He Planned to Shoot Up a Park a Week Before, He Said.
Cruz told the detective that he planned to shoot people at a park the week before, according to the transcript. He said he didn't know why he balked at doing it.
3. Cruz Said He Wanted to Die.
"Kill me," Cruz said, while he was alone in the interview room but still being recorded.
It happened after the detective left to get him some cold water. "Just fucking kill me. Fuck."
Curcio eventually left the interview room when Cruz asked for an attorney. Once alone, Cruz repeated "Why didn't he kill me?" five times, according to the transcript.
At a later time, he allegedly remarked, "I want to die. I want to die."
4. "Why did you do this?": Cruz's Brother Makes an Appearance.
The defendant's brother Zachary Cruz also makes an appearance in the transcript, being brought in to talk to the suspect.
"You — your — people think you're a monster now," Zachary Cruz said.
"A monster?" said the defendant.
"You don't have anything and you're not acting like yourself," said the brother. "Like, why? Like, we've — this is not who you are. Like, come on. Why did you do this? This is — don't even laugh at me. Dude, this isn't –"
"I'm sorry, dude," said the defendant.
5. This Isn't the Entire Story
Prosecutors in Broward County, Florida redacted some parts because under state law, the "substance" of the confession must be held back until played at a pre-trial hearing or during the trial itself. That means the defendant's vantage point of the shooting itself remains unknown.
Video of this post-shooting interview is scheduled to be released Tuesday.
17 people died at the shooting: 14-year-old student Alyssa Alhadeff, 35-year-old teacher Scott Beigel, 14-year-old student Martin Duque Anguiano, 17-year-old student Nicholas Dworet, 37-year-old assistant football coach Aaron Feis, 14-year-old student Jaime Guttenberg, 49-year-old athletic director Christopher Hixon, 15-year-old student Luke Hoyer, 14-year-old student Cara Loughran, 14-year-old student Gina Montalto, 17-year-old student Joaquin Oliver, 14-year-old student Alaina Petty, 18-year-old student Meadow Pollack, 17-year-old student Helena Ramsay, 14-year-old student Alexander Schachter, 16-year-old student Carmen Schentrup, and 15-year-old student Peter Wang.
Nikolas Cruz Confession by Law&Crime on Scribd
[Image via Mike Stocker-Pool and Getty Images]
Have a tip we should know? [email protected]