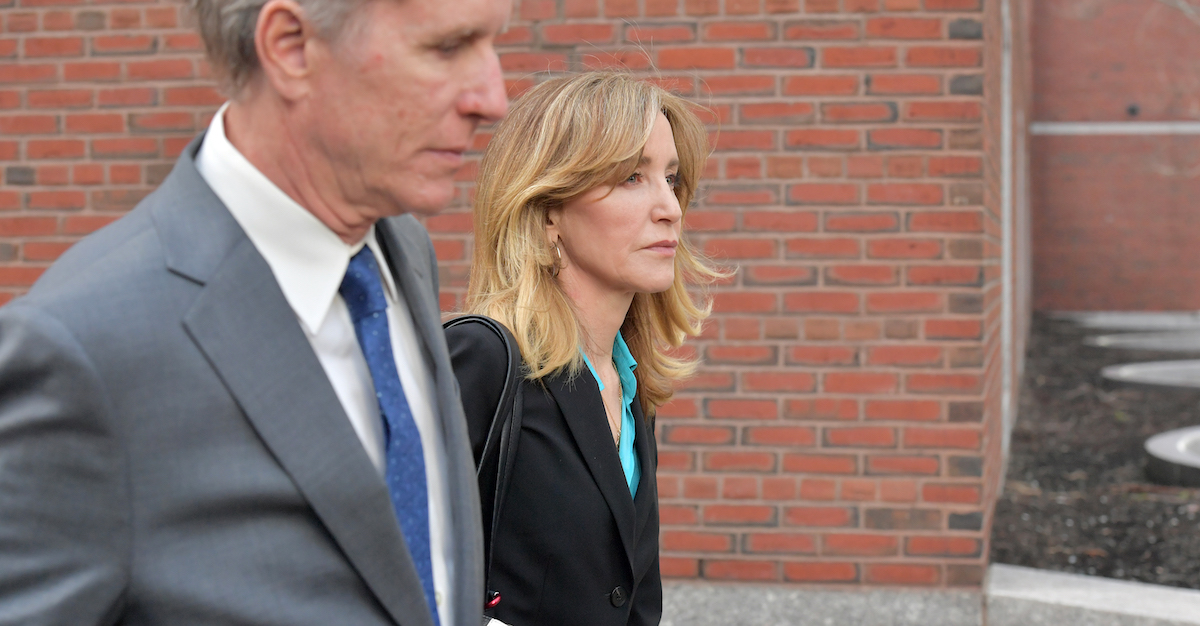 Hollywood actress Felicity Huffman has decided, as some other defendants have, to plead guilty after being charged with conspiracy to commit mail fraud and honest services mail fraud, as part of a bribery scheme to ensure her child would get into the school of her choice.
Huffman, a Golden Globe-nominated actress known for roles in Desperate Housewives and the critically-acclaimed film Transamerica, expressed remorse on Monday, plus a desire to accept full responsibility.
"I am pleading guilty to the charge brought against me by the United States Attorney's Office," she said. "I am in full acceptance of my guilt, and with deep regret and shame over what I have done, I accept full responsibility for my actions and will accept the consequences that stem from those actions."
Next, Huffman apologized to everyone affected by her conduct, including her daughter. She said her daughter had no idea what was going on.
"I am ashamed of the pain I have caused my daughter, my family, my friends, my colleagues and the educational community. I want to apologize to them and, especially, I want to apologize to the students who work hard every day to get into college, and to their parents who make tremendous sacrifices to support their children and do so honestly," Huffman's statement continued. "My daughter knew absolutely nothing about my actions, and in my misguided and profoundly wrong way, I have betrayed her. This transgression toward her and the public I will carry for the rest of my life. My desire to help my daughter is no excuse to break the law or engage in dishonesty."
Huffman allegedly paid thousands so that her older daughter would get a high score on her college entrance exam. The complaint said that she explored doing the same thing for her other daughter, but ultimately decided against this.
After securing "100 percent extra time" for her older daughter, Sofia Grace Macy, Huffman apparently grew concerned that her daughter's high school would be proctoring the exam instead–and therefore apparently frustrating the alleged answer-doctoring scheme.
Perhaps the most amusing thing here was Huffman's apparent quoting of Scooby Doo when things hit a snag:
HUFFMAN forwarded the e-mail to CW-1 with the note, "Ruh Ro! Looks like [my daughter's high school] wants to provide own proctor." CW
-1 responded, "We will speak about it."
This little hiccup was quickly smoothed over.
"In subsequent e-mails, Singer and Huffman agreed to tell the high school counselor that Huffman's daughter would take the SAT at a different location on December 2nd and 3rd [in 2017]—a Saturday and Sunday—so that she would not miss any school," charging documents noted.
An employee of cooperating witness-1 (William Rick Singer) then "purported to proctor [Sofia Grace Macy's] SAT exam at the West Hollywood Test Center" in December 2017. According to interviews with investigators, this employee said "that each time he was in Los Angeles to proctor an SAT or ACT, he facilitated cheating, either by correcting the student's answers after the test or by actively assisting the student during the exam."
A number of other parents implicated in the nationwide scam have also agreed to plead guilty. They are: Gordon Caplan, Gregory and Marcia Abbott, Jane Buckingham, Robert Flaxman, Agustin Huneeus Jr., Marjorie Klapper, Peter Jan Sartorio, Stephen Semprevivo, Devin Sloane, and Bruce and Davina Isackson.
You can read more about the allegations against them here. The guilty pleas are notable because they pave the way for a possible punishment significantly lesser than the maximum.
Colin Kalmbacher contributed to this report.
[Image via Paul Marotta/Getty Images]
Have a tip we should know? [email protected]