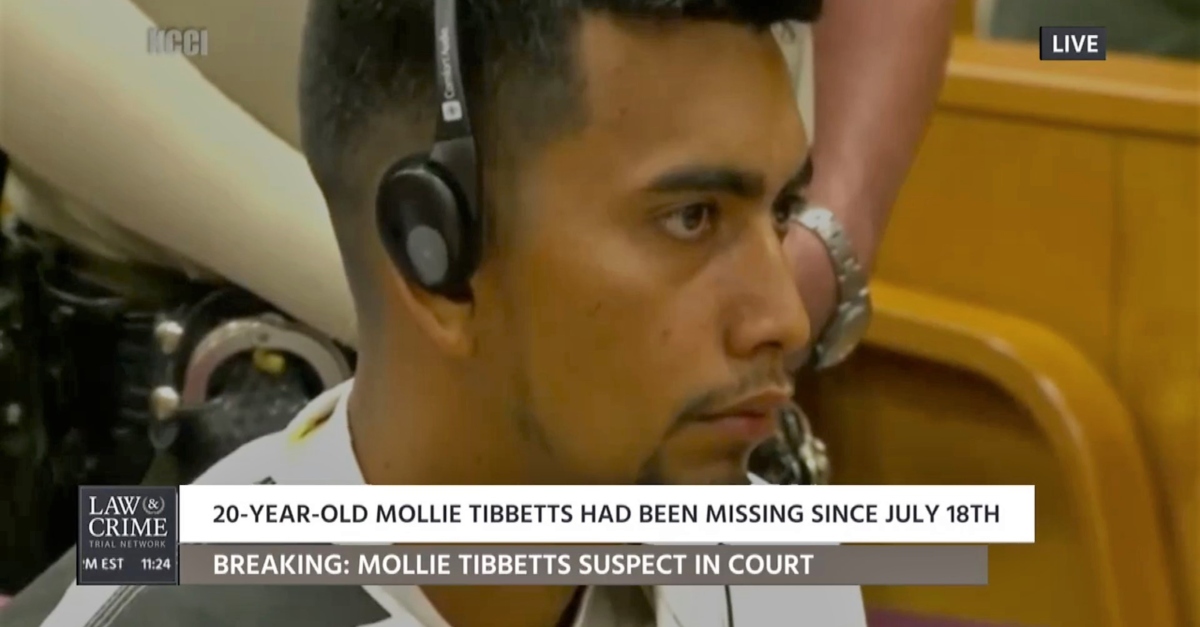 Defense attorneys have claimed that Mollie Tibbetts' accused killer Cristhian Bahena Rivera was coerced into making an inadmissible confession. Attorneys said in a new court filing that their client made his alleged confession during a 12-hour interview in which he wasn't advised of his rights beforehand, according to The Des Moines Register.
An individual, they said, began screaming and cursing at the defendant during questioning. Attorneys characterized law enforcement as badgering Rivera.
"I can see in your eyes," said another person in the room. "That there's something you're hiding from us."
In short, the legal team said that the confession was involuntary.
Rivera is charged with killing Tibbetts, a 20-year-old student at the University of Iowa. Authorities say surveillance footage showed the victim was jogging when a suspicious dark-colored Malibu appeared in the area. The defendant allegedly admitted it was his car during the police interview. He allegedly admitted to making contact with her, parking  his car, getting out and running after her. Tibbetts purportedly said that she was going to call the police. Rivera "panicked and got mad," according to the affidavit. He said he "blocked his memory" of the murder, according to cops. This is something he apparently "does when he gets very upset," they said.
Rivera allegedly admitted to finding himself at an intersection with Tibbetts in the trunk of his vehicle. He led investigators to where he disposed of the body, cops said.
The defense, however, is casting scrutiny on the terms in which Rivera gave this supposed confession. Defense lawyer Chad Frese said Rivera was Mirandized nine to 10 hours into the 12-hour interview at the Poweshiek County Sheriff's Office. They said Rivera fell asleep twice during this process because he just worked a shift at a dairy farm. Frese also added that he disputed law enforcement's "characterization" that Rivera led investigators to Tibbetts' body. Frese declined to go into detail.
"It's troublesome," Frese said, saying that this was the only police interview of Rivera before he was charged with murder.
The Tibbetts murder landed on a fraught cultural fissure. Rivera is widely described as having been an undocumented immigrant, but the victim's family pushed back against politicians and white nationalists who used Tibbetts' death for their own ends.
The murder trial is set to begin on Sept. 3.
[Screengrab via KCCI and the Law&Crime Network]
Have a tip we should know? [email protected]