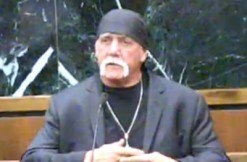 Pro-wrestler Hulk Hogan testified Monday that his former best buddy, shockjock Bubba "The Love Sponge" Clem, really, really, really wanted him to have sex with his then-wife Heather. So much so it was a regular topic of conversation. But you know, what else are friends for?
"'Heather wants to see the size of your penis,'" Hogan, in court, reported Clem as saying one time they were hanging out. Hogan said he only accepted the offer after his marriage with his then-wife fell apart, and he became emotionally vulnerable.
Hogan says he tried to get his wife to return, but she told him, "You're too old, you're too slow, you don't turn me on." #hulkvsgawk

— Tom Kludt (@TomKludt) March 7, 2016
"It didn't make sense," Hogan said about the three trysts he'd reportedly had with Heather Clem. "It just happened."
During one time, Bubba apparently gave him a condom before the act. Hogan also said he'd once asked, "You're not filming this are you?" and that it was his "gut feeling" causing him to ask this. But he said that gut feeling reportedly ticked off Clem, who lambasted him for even thinking such a thing.
That last detail—the shockjock's stubbornness—is in line with Heather Clem's Monday testimony. She established that Bubba (who she's since left) was not a nice man, especially when he wanted something.
"He would continuously berate you until you did what he wanted. Whether it was in the privacy of your own home, or publicly." #hulkvsgawk

— Anna Phillips (@annamphillips) March 7, 2016
She said she knew about the camera in their bedroom, and didn't think Hogan knew about it. (Her then-husband reportedly installed it because of burglary concerns.) According to her, sex with Hogan was Bubba's idea. Nonetheless, she claimed she knew nothing about how the sex tape leaked.
Prior to this the sex tape release, the wrestler and shockjock were pretty close friends.
"We just did everything together," Hogan said in court, so when the tape leaked, he initially believed Clem when he said he had nothing to do with it.
That friendship is dead though. They settled out of court for $5000. Though the shockjock is scheduled to testify, he is expected to plead the Fifth Amendment when he takes the stand.
Hogan is suing Gawker for publishing an excerpt of his sex tape with Heather Clem. He seeks damages of $100 million because, as his lawyer argued in opening statements Monday, the gossip site put the video out there knowing it would cause him harm by invading his privacy. Gawker released a statement Monday claiming they are protected by the First Amendment, and that the wrestler had no reasonable expectation of privacy because he publicly talked about his sex life in media outlets.
[image of Hogan via Wild About Trial screengrab]
–
Follow Alberto Luperon on Twitter (@Alberto Luperon)
Have a tip we should know? [email protected]