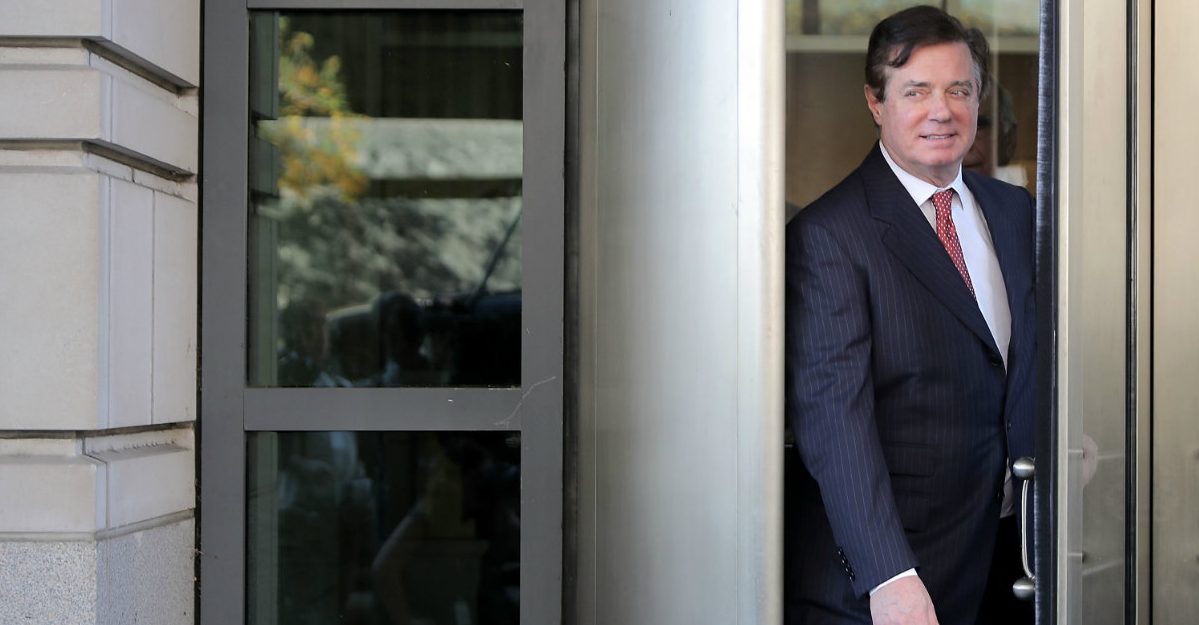 Former Trump campaign chairman Paul Manafort, with trials pending in Virginia and D.C., reportedly made a whopping $60 million-plus in Ukraine working as a political consultant.
Bloomberg News is reporting that the number comes directly from Special Counsel Robert Mueller.
"The government expects to prove that Manafort earned more than $60 million dollars from his Ukraine work during the period at issue and failed to report a significant percentage of it on his tax returns. No 'pay stub[s]' or 'paychecks' reflect that income; rather, the invoices and bills submitted by various consultants provide proof on that issue," the filing said.
There has been an ongoing struggle between Manafort's attorneys and Mueller's prosecutors over whether or not certain evidence should be allowed at trial.
In particular, Manafort's lawyer Kevin Downing said evidence relating to Manafort's Ukraine lobbying work should be tossed out because it has nothing to do with bank and tax fraud charges against Manafort and may prejudice jurors against his client.
Today, Mueller referenced that opposition.
"Accordingly, to prove that Manafort earned that much income, the government must be able to show the extent of the work that he performed for Ukraine," he said. "And the challenged exhibits— memoranda, emails, and photos reflecting tasks performed—are relevant to establishing the extent of that work. Several exhibits establish that Manafort performed paid work for Ukraine through the entire period of the charged tax offenses (tax years 2010-2014)."
Mueller has also, in recent weeks, released evidence of Manafort's lavish lifestyle.
One series of photographs apparently shows a watch owned by Manafort and produced by the House of Bijan. Another series of photographs shows various articles of clothing produced by the same company. The House of Bijan loudly brags about being "the world's most expensive store," and potential customers are seen by appointment only. The evidence details that Manafort's spending at House of Bijan apparently took place over the course of roughly three years.
Another entry details a series of images showing articles of clothing produced by Alan Couture. This now-defunct luxury brand was formerly based in midtown Manhattan where they produced lavish custom clothing while generating around $3 million from its single location annually–without a blip of advertising. The evidence list notes that Manafort has invoices from Alan Couture spanning a nearly five-year period.
There are also documents from J&J Oriental Rug Gallery located in Alexandria, Virginia. According to the indictment, the former Donald Trump 2016 campaign chairman spent exactly $934,350 at an unnamed antique rug store in Alexandria.
Another series of interestingly extravagant inclusions on Mueller's evidence list are various outlays to Big Picture Solutions, Inc., a lighting store in Jupiter, Florida where Manafort is alleged to have spent in excess of $1.3 million.
Other high-priced items of note include various years' worth of season tickets for the New York Yankees and an invoice for Manafort's purchase of a Mercedes Benz SL 550.
On Friday, Special Counsel Mueller released a list of 35 potential witnesses court. Manafort's Virginia trial is scheduled to begin on Tuesday, July 31. He faces money laundering, tax and bank fraud allegations in the Eastern District of Virginia (EDVA). Before prosecutors and defense attorneys battle, though, jury selection must occur.
Manafort's D.C. trial is scheduled to begin in September.
Colin Kalmbacher contributed to this repot.
[Image via Chip Somodevilla/Getty Images]
Have a tip we should know? [email protected]