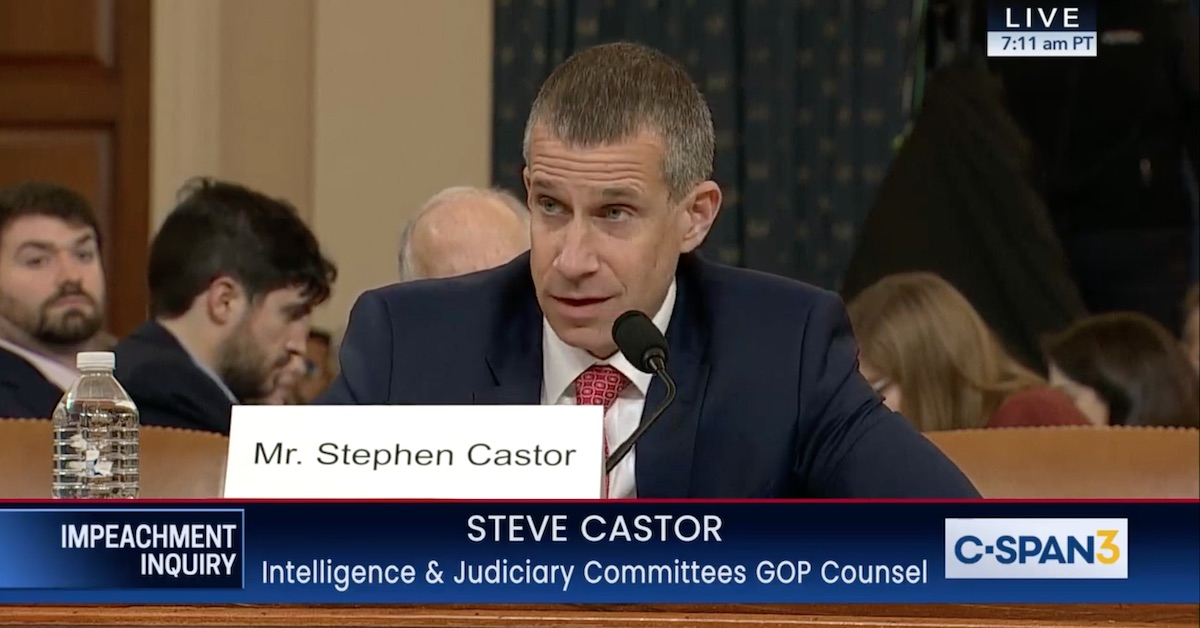 Steve Castor, who you may remember from the House Intelligence Committee phase of the impeachment inquiry, appeared before the House Judiciary Committee on Monday to present the case as to why the president should not be impeached. Castor argued during his opening statement that it would be "baloney" to impeach President Donald Trump over "eight lines" in the non-verbatim memo of Trump's infamous July 25 phone call with Ukrainian President Volodymyr Zelensky.
It was an argument immediately called out as a combination of "straw man" and a "red herring."
Watch Castor's statement below:
Castor said that rather than violating his oath of office, President Trump took care to faithfully execute the laws. He echoed George Washington University Law Professor Jonathan Turley's criticism of Democrats, about undertaking a so-called "rushed impeachment." (Turley was one of four constitutional law experts who testified last week, and the only expert called by Republicans. The other three, called by Democrats, all said it was clear Trump committed impeachable offenses.)
"The artificial and arbitrary political deadline by which Democrats are determined to finish impeachment by Christmas leads to a rushed process and missed opportunities to obtain relevant information," Castor said.
Castor went on to make some arguments that raised the eyebrows of numerous observers.
"Democrats didn't even try to hold witness who defied subpoenas in contempt."
https://twitter.com/matthewamiller/status/1204059377226919937?s=20
The implications of discrediting Michael Cohen, the president's now-incarcerated former longtime attorney and fixer… while the president's current personal attorney, Rudy Giuliani, is at the center of the impeachment inquiry.
The Mueller investigation was too long, and this one is too short.
Castor focused on the "process" and Democrats, not the substance of the allegations against the president.
https://twitter.com/AshaRangappa_/status/1204059002331697152?s=20
Lying about a "key point"? We know the Ukrainians knew military aid was withheld before it was publicly reported for the first time.
[Image via CSPAN screengrab]
Have a tip we should know? [email protected]