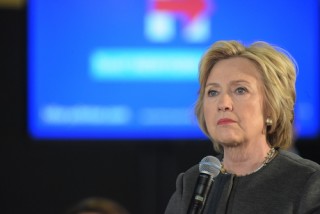 Hillary Clinton appeared on CNN's New Day to reflect on the horrific tragedy that left 49 people dead and 53 people injured. She also used the opportunity to call for a reinstatement of the assault weapons ban that expired 12 years ago.
The Federal Assault Weapons Ban prohibited people from buying semi-automatic guns that were considered assault weapons. Authorities said mass murderer, Omar Mateen, used an AR-15 style rifle when he opened fire at the gay Orlando nightclub. The ban on these weapons expired in 2004 and was lifted. The original bill was signed by Clinton's husband, President Bill Clinton, in 1994. The ban was highly criticized by the pro-gun lobby including the NRA.  There were several legal challenges to the constitutionally of the law, but none ultimately succeeded.
"I think we've got to get back to common sense safety reform, you can't fall into the trap that was set up by the gun lobby that say you can't stop every incident, that we should not try to stop any," she said. "We did have an assault weapons ban for 10 years, and I think it should be reinstated,"
Clinton also criticized Florida's lax gun laws which include no need for a state license to buy a gun, no ban on assault weapons, and few restrictions on private gun sales.
CNN's Chris Cumo pushed back, asking if she believed in an "individual right" to own a gun.
"I believe law abiding responsible american have the right to bear guns, but I also believe with the vast majority of Americans that there are common sense, constitutionally permissible steps that we can take to keep guns out of the hands of criminals and terrorists while respecting the Second Amendment, " she said.
Have a tip we should know? [email protected]
Rachel Stockman - President / On Air Host