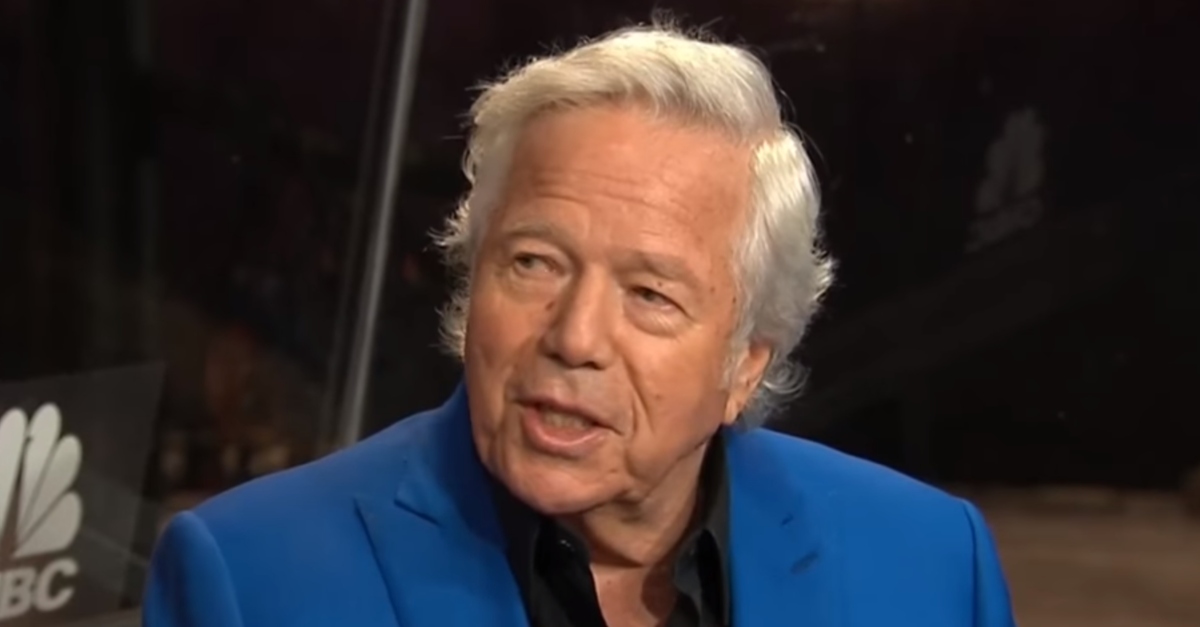 Attorneys for New England Patriots owner Robert Kraft are gunning for a key piece of evidence in his prostitution case. Cops in Jupiter, Florida claim there's video evidence of Kraft engaging in illicit sexual activity with a woman at the Orchids of Asia massage parlor. The defense, on the other hand, is doing everything it can to have that evidence suppressed.
Kraft pleaded not guilty to two charges of soliciting prostitution.
The short version of their 92-page Wednesday filing is that cops allegedly didn't have the law on their side used an unconstitutional tactic by planting hidden cameras. They also claim Kraft was subjected to an illegal traffic stop.
Here's the slightly longer version.
Kraft's lawyers want to suppress the video recording from an "unlawful 'sneak and peek'" search warrant, according to the filing. Cops put hidden cameras in the spa's message rooms and lobby. A judge authorized this for five days.
The defense says this police tactic was overkill for investigating what were suspected to only be misdemeanor offenses.
"Far from having justification commensurate with the extraordinary invasions it perpetuated, law enforcement in this case had no authority whatsoever for something as drastic as 'sneak and peek' video surveillance, much less continuous, unbounded video surveillance of naked patrons in private licensed massage parlors," they wrote.
Attorneys argue that there's nothing under the law that lets police "conduct covert video surveillance inside private premises to investigate prostitution, let alone misdemeanor solicitation."
Lawyers suggest that the Jupiter Police Department had a "false narrative of human trafficking." Investigators bolstered their argument for a "sneak and peek" warrant relying on details from a suspect, warrantless search performed by a Florida Department of Health official, said the defense.
Kraft's lawyers are also calling out cops for allegedly installing the cameras through a fake bomb threat on January 18, 2019. Police orchestrated an evacuation, and this gave them the opportunity to install the cameras, according to the filing.
"As such, the Warrant authorized the JPD to videotape an untold number of unsuspecting, innocent, naked patrons who were doing nothing wrong," said Kraft's lawyers. They argued that the recordings didn't add anything to the information police already obtained through other methods.
Police also pulled over Kraft's car on January 19, 2019 after his earlier visit to the spa. The defense said this was illegal because the driver committed no traffic violations. They said the officer asked for Kraft's driver's license with no legal basis, as the defendant was a passenger in the vehicle.
The defense once again claimed that law enforcement mischaracterized the investigation as a human trafficking case, although no such charges had been filed.
Martin County Sheriff Will Snyder, whose office tipped police off regarding alleged prostitution, previously defended against allegations that they over-exaggerated the offenses in question.
"There are several women lower down [the alleged operation] that could still cooperate," he told USA Today in a March 28 report. "Notwithstanding that, this has the makings of a classic, unadulterated sex trafficking ring. Period."
Robert Kraft's attorneys nearly 100 page memo to suppress video evidence is really good, even though I think the law is on Florida's side. But their arguments are strong/persuasive. If they win, case has a shot at getting thrown out but Florida could also try it without the video

— Amy Dash (@AmyDashTV) April 3, 2019
All of this is being done to prevent jurors from seeing the video. Kraft initially decided to pursue a non-jury trial. That has changed. He's instead requested a trial before a jury of his peers.
Robert Kraft's Lawyers … by on Scribd
[Screengrab via CNBC]
Have a tip we should know? [email protected]