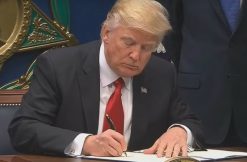 If you're feeling as though stepping away from the internet for an hour might result in your missing some yuge piece of news, you're not alone. In the last 36 hours, this refugee thing has gone from "wait, what?" to "holy shit!" In case you went to dinner and a movie last night, we thought we'd catch you up, starting all the way at the beginning.
What exactly are "refugees"?
Refugees are people who have been forced to leave their home countries because of persecution, war, or violence. Refugees are not undocumented or "illegal" immigrants. These are people specifically fleeing religious, ethnic, tribal, or political persecution – not people who would simply prefer to live in the United States.
Before President Trump was elected, what was the situation with refugees?
The United Nations High Commissioner for Refugees ("UNHCR") registers millions of people seeking asylum in the United States from all around the world. UNHCR assists these asylum-seekers during the process of relocation, and helps resettle people in their home countries when the threats have diminished. The process from UNHCR registration to settling in the United States is a long one; it takes eighteen to twenty-four months to complete extensive background checks, and everyone from the State Department, to the FBI to DOD to DHS is involved. Every applicant is interviewed by a DHS officer, and fingerprint and background data is extensively examined. The background checks for refugees coming from Syria are especially stringent, and only half of the applicants are actually approved for asylum. The refugees granted asylum in the U.S. have been overwhelmingly women, children, and elderly individuals.
If you're scratching your head wondering why your mental image of little Elian Gonzalez floating to the shores of Miami doesn't gel with the very official and bureaucratic process described above, that's because the U.S. has also developed policies for handling refugees who arrive without undergoing the process supervised by UNHCR. Those policies (such as the recently ended "wet foot, dry foot" Cuban policy), while necessary for individuals fleeing countries geographically close to the U.S., are not what we're talking about with respect to President Trump's recent Executive Order. We're talking about the policies involved with coordinated immigration through refugee programs.
What's the story with Trump's Executive Order?
This past Friday night, President Trump issued an Executive Order which directed federal agencies to begin the "extreme vetting" of refugees. The EO suspended entry of all refugees to the United States for 120 days, barred Syrian refugees indefinitely, and blocked entry into the United States for 90 days for citizens of Iran, Iraq, Libya, Somalia, Sudan, Syria and Yemen. Individuals holding green cards from those countries were also prohibited from re-entering the United States.
Why did the Executive Order cause immediate pandemonium?
Somewhere between 100 and 200 refugees had already undergone the necessary background checks, and had been granted asylum in the United States. They were on their way here on airplanes, visas in hand, having been granted permission to enter our country. Once President Trump issued Friday's EO, though, they were detained at airports; their background checks (completed before the EO was issued) complied with previous UNHCR requirements – but did not meet Trump's heightened "extreme vetting" requirements.
There is significant disagreement over the appropriate policy for handling refugees. Many immigration experts argue that existing procedures are well-calculated to weed out dangerous individuals, and point to an overwhelmingly positive track record of granting asylum to law-abiding refugees. Others argue that the danger of terrorists using the refugee process as a Trojan horse is too great, and that the value of providing safe passage to those fleeing danger is simply outweighed by the need to maintain our own security.
Regardless of the proper long-term policy, one thing is clear: the hundreds of refugees who landed America yesterday—people who legally obtained visas — are in legal limbo through no fault of their own.
What did the lawsuit filed yesterday do?
The lawsuit, filed by the ACLU and several immigration law groups on behalf of the detained visa-holders, claimed that President Trump's Executive Order was "unlawful as applied" to certain specific individuals, and also to the entire group of individuals who were "similarly situated."
The Complaint laid out the story of Hameed Khalid Darweesh, a 53 year-old Iraqi engineer, who worked for the U.S. government while in Iraq from 2003 to 2013. According to the Complaint, Mr. Darweesh was contracted by the U.S. government to work in a variety of positions that placed him in "substantial risk of being targeted, attacked and killed by anti-American militias and insurgents." Mr. Darweesh worked as an interpreter for the U.S. Army 101st Airborne and the 91st Engineering Unit, and as a Project Engineer for the U.S. Government Projects Contracting Office Oil sector of North Iraq. During Mr. Darweesh's work with the U.S. government, he was repeatedly harassed, and his coworkers were killed. Mr. Darweesh, his wife, and three young children, were all issued valid visas on January 20, 2017 to relocate to the United States, but were detained with others at JFK Airport.
What happened on Saturday night?
Late Saturday evening, Judge Ann M. Donnelly of Federal District Court in Brooklyn, issued a "stay" of President Trump's Executive Order.  That means for the time being, the EO may not be enforced against Mr. Darweesh and his family, or against any of the other "similarly situated" refugees. It also directs the U.S. Marshals Service for the Eastern District of New York to take whatever actions it needs to enforce the stay. The ruling doesn't apply to any of the thousands of refugees who are still seeking visas, or to any who are still in foreign countries.
Lee Gelernt, the attorney who argued the case, and the deputy director of the ACLU's Immigrants' Rights Project, said:
"This ruling preserves the status quo and ensures that people who have been granted permission to be in this country are not illegally removed off U.S. soil."
So where does that leave us?
Still with much disagreement and much uncertainty. There are unquestionably some refugees who are directly affected by the EO, but who would not be "similarly situated," in that they have not yet arrived in the U.S., are bound to be legal battles on their behalves. There is also the broader question of whether the policy of "extreme vetting" is legal or even desirable. We are sure to see litigation regarding not only the content of the EO, but also about the president's authority to issue such an order.  For now, though, the Darweesh and other families are headed to their new homes in the United States.
Have a tip we should know? [email protected]
Elura Nanos - Columnist & Trial Analyst, Law & Crime; CEO Lawyer Up