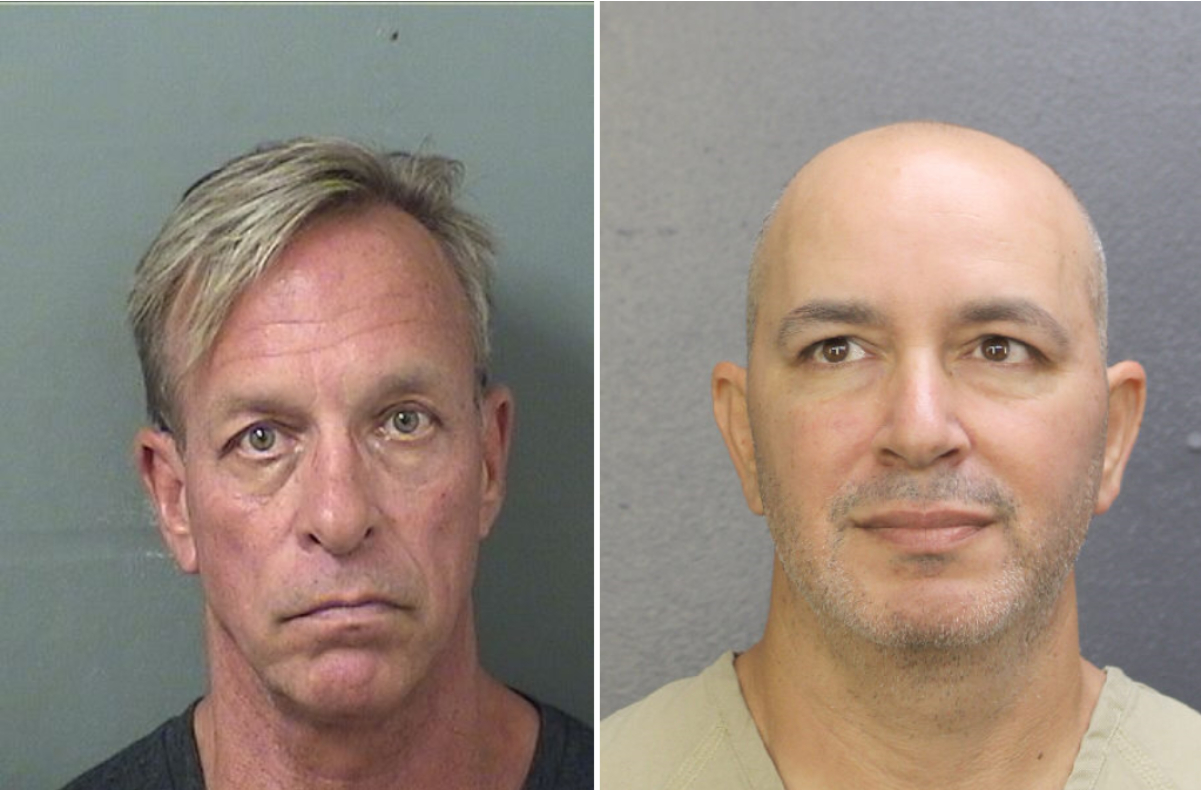 The alleged owners of Mugshots.com have been charged and arrested. These four men–Sahar Sarid, Kishore Vidya Bhavnanie, Thomas Keesee, and David Usdan–only removed a person's mugshot from the site if this individual paid a "de-publishing" fee, according to the California Attorney General on Wednesday. That's apparently considered extortion. On top of that, they also face charges for money laundering, and identity theft.
If you read a lot of articles about crime, then you're probably already familiar with the site (which is still up as of Friday afternoon). They take mugshots, slap the url multiple times on the image, and post it on the site alongside an excerpt from a news outlet that covered the person's arrest.
According to the AG's office, the owners would only remove the mugshots if the person paid a fee, even if the charges were dismissed or if the suspect was only arrested because of "mistaken identity or law enforcement error."
You can read the affidavit here.
According to the complaint, a man identified as Jesse T. tried to have his mugshot removed. A friend had reached out to him, concerned he might be prison. T. discovered that his arrest information from Sept. 2, 2013 was posted on the site. It had his full name, address, gender, and the charge he was arrested for. He went to the link to get rid of the mugshot–unpublisharrest.com–but they demanded a $399 fee. He got in touch with the 800 number listed on the site, and when the man on the phone told him he needed to pay the fee, T. said that was illegal.
"The man laughed and hung up," the affidavit said. The man hung up again when T. tried calling back to say he had proof clearing him of the charges. T. tried calling again three times on July 23, 2016. It went to a recording every time. After that, he got an unlisted call on his home phone, and he turned on a recorder before answering, the affidavit said. T. played the following message for investigators [sic, as written in the affidavit; his name is alternately spelled "Jesse" and "Jessie" in the document]:
Jessie T.: Hello

Unknown Male: -this third time tell you fucking bitch we'll never answer your calls again you've been permanently published faggot bitch.

Jessie T.: Hey I'd like my stuff removed.

Call ended.
Records cited by the affidavit showed that T. was only detained by cops, but his case was dropped due to lack of evidence. Even so, the damage was done. The incident was treated as "detention only." In his Sept. 6, 2016 interview with investigators, T. said he'd been unable to get work because of the Mugshots.com post. He also mentioned a romantic relationship that abruptly ended after two days, and suggested that the woman might have looked him up online. The Mugshots.com post ruined his reputation, and humiliated him, he said.
"This pay-for-removal scheme attempts to profit off of someone else's humiliation," said Attorney General Xavier Becerra. "Those who can't afford to pay into this scheme to have their information removed pay the price when they look for a job, housing, or try to build relationships with others. This is exploitation, plain and simple."
The AG's statement claims that Mugshots.com owners got $64,000 from about 175 people with billing addressed in the state. That's over a three-year period. Of course, that falls way, way short of how much they raked nationwide: The four got over $2 million in "de-publishing" fees from 5,703 people.
If you believe you're one of those people, the AG's office recommends you file a report with local cops. "If your booking photo was taken in California, or you were in California when you contacted Mugshots.com to 'de-publish' your information, please contact the Attorney General's eCrime Unit at [email protected]. Out-of-state complaints can be reported to the Internet Crime Complaint Center (IC3) https://www.ic3.gov."
Jail records obtained by Law&Crime show that Keesee, a 59-year-old resident of West Palm Beach, Florida, was arrested Wednesday on his California arrest warrant, and is being held at the West Palm Beach Main Detention Detention Center, pending his extradition. Sarid was also arrested Wednesday, and is being held at the Broward County Jail. Bhavnanie was arrested in Pennsylvania, and Usdan in Connecticut, California Department of Justice Press Secretary Tania Mercado told Law&Crime in an email. The extradition process is ongoing.
The defendants could not be immediately reached for comment as of press time.
Note: Updated with information from a California Department of Justice spokesperson.
[Mugshot of Keesee, on left, via Palm Beach County; Sarid via Broward County]
Have a tip we should know? [email protected]