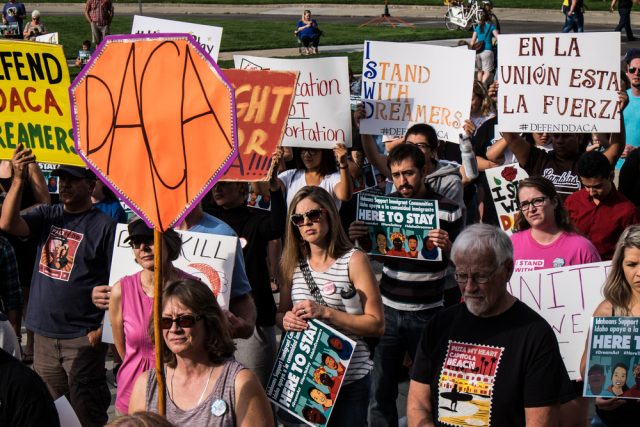 An attorney for the U.S. Justice Department announced at a hearing on Tuesday that there are no plans to extend the deadline for DACA (Deferred Action for Childhood Arrivals) renewal past October 5. This comes despite a federal judge pushing for such action, as lawmakers try to come up with a plan to cover those protected by the program, commonly referred to as "Dreamers."
U.S. District Judge Nicholas Garaufis said at a prior hearing that the DOJ should consider giving Dreamers more time to renew their status before the current deadline comes, and didn't hide his feelings when Deputy Assistant Attorney General Brett Shumate stated that the DOJ will not give more time for renewals.
"You can't come into court and espouse a position that's heartless," Garaufis said. "It's unacceptable to me as a human being and as a person. I'm glad I was born in Paterson, New Jersey and not Mexico City."
The hearings are part of a lawsuit filed against the government after President Donald Trump announced that he was repealing DACA, which was put in place by President Barack Obama in 2012 as a temporary solution to protect people who were brought into the United States illegally as children. With no legislation in place, the DACA policies were meant to keep Dreamers from being deported. Trump's decision provided a six-month period until DACA officially vanishes.
The government ceased taking new DACA applications after Trump's announcement earlier this month, but for those whose protected status is set to expire on or before March 5, 2018, they can still renew until next Thursday. Judge Garaufis did not believe that one month was sufficient time for people to get their renewal applications in, and said he didn't understand "what's the hurry."
In the meantime, Democrats and Republicans alike are pushing for legislative solutions that would protect Dreamers. Republicans recently introduced the Succeed Act, which would provide a path to citizenship to those who have been in the U.S. since they were younger than 16 and since November 5, 2012 (when DACA was passed), if they meet certain conditions. Democrats favor the Dream Act, which has similar goals, with fewer restrictions and a broader scope that would grant allowances for Dreamers' parents.
[Image via Shutterstock]
Have a tip we should know? [email protected]