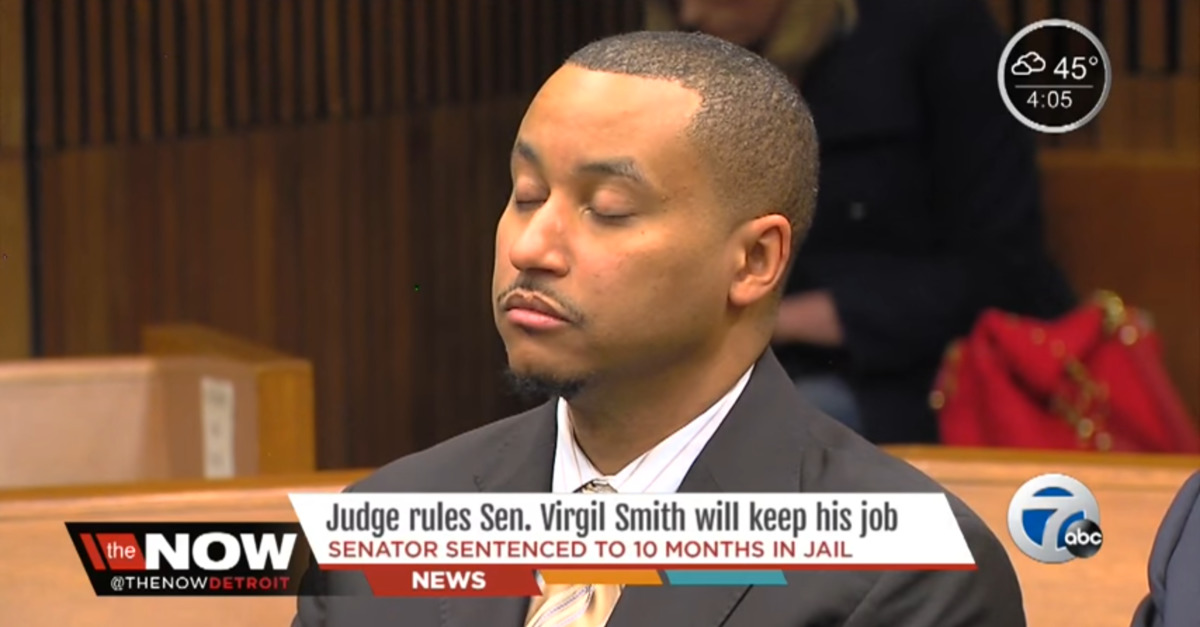 The ex-wife of a former Democratic Party state senator from Michigan has leveled harrowing and shocking allegations of extreme domestic violence against her ex-husband.
In a Thursday story from the Detroit Free Press, Anistia Thomas says that Virgil Smith Jr. once fired at her with an AR-15 style semi-automatic rifle–the type of gun commonly, though erroneously, referred to as an "assault rifle."
From that report:
Thomas said she was faced with a split-second decision, as she stood that night of May 10, 2015, on the sidewalk near his house: Run or let fear take hold.

She ran.
Smith was then arrested and questioned by the Detroit Police Department. He told them he was only aiming for his ex-wife's Mercedes-Benz. The Wayne County Prosecutor's Office apparently agreed. Smith, then still a state senator, was charged with malicious destruction of personal property, felonious assault with a deadly weapon, felony firearm possession and domestic violence.
Smith, the son of long-serving Chief Wayne County Circuit Judge Virgil Smith, later entered into a plea deal where he accepted one charge of malicious destruction of personal property over $20,000. All the other charges were dropped. Smith was ultimately convicted and sentenced to 10 months in prison–serving just over seven months due to his good behavior while incarcerated. He was released in late 2016.
Thomas was initially furious about the slate of charges and eventual plea deal.
"He actually tried to kill me," she told the Free Press. "He shot at me with his AR-15."
Thomas elaborated on how she felt during the shooting incident:
I went into survivor mode. When I started seeing the flashing fire from the gun, I felt like there was an angel there protecting me. I said, "OK, survivor mode. I need to think fast. I can either get frantic and get scared or I'm going to pony up and get out of here and save my life."
Smith's attorney David Steingold disputed Thomas' characterization of the shooting.
"The allegation is that she saw him getting ready to fire," Steingold said. "As I understand the allegations, no one said he fired at her, only her car, and she was not in the line of fire."
Thomas says she's still dealing with the trauma from that night but that she now forgives Smith.
"It's very difficult to have the history that we've had," Thomas told the outlet. "I don't hate him at all. I had to let it go in order for God to bless me. … I've actually forgiven what happened."
As for Smith? He's back in legal jeopardy after mounting an unsuccessful bid for the Detroit City Council in 2017.
The Wayne County Prosecutor's Office says that Smith's candidacy violated one of the terms of his original plea agreement–a pledge not to run for office for the next five years–and have since reinstated the four original charges.
The Michigan Supreme Court previously ruled on that provision of Smith's plea deal and found it unconstitutional. So, expect quite a bit of legal wrangling in the months ahead.
Smith is currently scheduled to appear in Wayne County Circuit Court on February 1.
If convicted, this time around, he faces a maximum penalty of 19 years and three months in prison.
[image via screengrab/WXYZ-TV]
Have a tip we should know? [email protected]