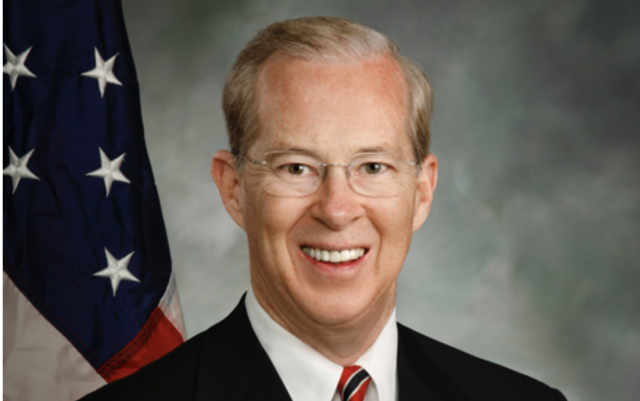 Dana Boente was forced to resign as U.S. Attorney for the Eastern District of Virginia late last month, and while the reason remains unknown, the circumstances are curious, at least to Harvard Law Professor Laurence Tribe. Tribe tweeted Wednesday morning that Boente's resignation could be a sign of things to come, as he was in the line of succession to be Acting Attorney General if President Donald Trump should remove current AG Jeff Sessions.
Dana Boente's forced resignation needs to be investigated: he was ~ 4th in line as Acting AG to supervise and potentially fire Robert Mueller if Trump gets rid of (recused AG) Sessions. May be setting up a Saturday Night Massacre.

— Laurence Tribe (@tribelaw) November 8, 2017
The Acting Attorney General has the power to fire Special Counsel Robert Mueller, whose investigation in the Trump campaign's ties to Russia recently resulted in two indictments and one conviction. Sessions has recused himself from the investigation due to his own connection with the campaign, so Rod Rosenstein is the Acting Attorney General when it comes to that matter.  Rosenstein has gone on record saying he has no intention to fire Mueller without good cause. However, should Sessions find himself out of a job, his replacement would then have the power to fire Mueller.
Tribe's reference to the Saturday Night Massacre, was a nod to when President Nixon gave orders to Attorney General Elliot Richardson to fire special prosecutor Archibald Cox, only for Richardson to refuse and resign. The same thing then happened with Deputy AG William Ruckelshaus, leading Solicitor General Robert Bork, who was next in line, to fire Cox. Tribe is implying that Boente's forced resignation should be investigated, because it could be part of a similar strategy of setting up a situation where he could go down the line until he finds a new Attorney General to fire Mueller.
Senator Chris Coons (D-Delaware) was also troubled by the ousting, telling Reuters, "I'm concerned about the abrupt departure of Dana Boente after a career as a federal prosecutor … There's a lot of circumstances that connect the ongoing Mueller investigation to the Eastern District."
Have a tip we should know? [email protected]