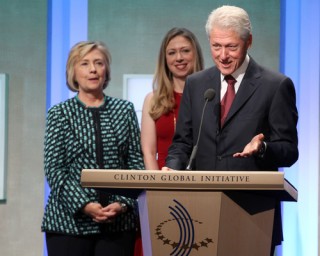 You've heard Wall Street investment banks like Goldman Sachs have paid millions for speeches delivered by Bill and Hillary Clinton.  But have you heard about all the law firms that also paid big bucks to hear the Clintons talk? Well, it's true. Some of the biggest law firms doled out hundreds of thousands for just one speech, and all the proceeds appear to have gone right into the Clintons' coffers.
According to Bill and Hillary Clinton's 2015 financial disclosure, most of their income came from book royalties and paid speeches. Clinton has been under intense pressure to release her transcripts from Wall Street bank speeches, but little has been said about her speeches to high profile law firms. These law firms often represent high net worth individuals, and companies. We examined The Washington Post database; take a look at which law firms have paid both Hillary and Bill a pretty penny!
Hogan Lovells US LLP (New York based law firm) paid Bill Clinton $225,000 

(6/20/2014)

White & Case LLP (New York based law firm) paid Bill Clinton $200,000 

(1/27/2012)

Latham & Watkins, LLP (Los Angeles based) paid Bill Clinton $150,000 

(3/8/2013)

Robbins Geller Rudman & Dowd LLP (San Diego based), paid a Bill and Hillary Clinton a total of $450,000 for two different speeches 

 

(9/17/2013) (9/4/2014) Bill Clinton also received $225,000 for a speech in 2009 before the firm was renamed.  

Kessler Topaz Meltzer & Check LLP (based near Philadelphia) paid Bill Clinton $500,000 

(3/7/2014)
From about January 2014 to March 2015, the Clintons pulled in about $25 million for 104 paid speeches, according to a Politico report. The report indicated one of Bill Clinton's priciest speeches was to law firm Kessler Topaz Metzler & Check in Amsterdam.  He received a whopping half million for that speech back in 2014.  The law firm has more than 90 attorneys and has been at the forefront of class action litigation for over 20 years. Robbins Geller Rudman & Dowd also paid the Clintons nearly a half a million dollars in less than a year. The law firm, based in San Diego, has 10 offices around the country and specializes in corporate litigation. Just last year, the firm won $7.2 for Enron shareholders. We will keep digging into these speeches, and let you know if any other law firms paid the Clintons.
[h/t National Law Journal]
Have a tip we should know? [email protected]
Rachel Stockman - President / On Air Host