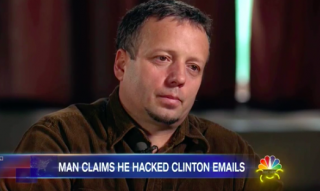 The Romanian hacker who goes by the moniker 'Guccifer' claims he had an 80-minute phone call with an FBI agent while he was being extradited from a Bucharest prison to the United States, according to a new report on Fox News. He says the conversation was recorded. A separate government source told Fox News that the hacker had a lot to say on the plane but provided no further details.
As you might recall, earlier this week, NBC News and Fox News both revealed explosive allegations from Guccifer in which he claimed he had 'easily' hacked Clinton's email server.
Guccifer, whose real name is Marcel Lehel Lazar, told Fox News' Chief Intelligence Correspondent Catherine Herridge, that he took four pages of notes when he spoke with the FBI last month. He also said he spoke with an official with the U.S. Department of State.  The network reports that FBI agents are expected to interview him again in a Virginia jail, where he is currently being held on separate cyber hacking charges.
Here is a transcript of what Guccifer told Fox:
Fox's Pamela Brown: You have talked to the FBI on the plane?

Guccifer: Yeah, right because they came after me. One guy from the FBI, from the State Department, yeah.

Brown: Did you have any visits from the FBI when you were in Romania?

Guccifer: I had in 2014, in March.
Fox News could not independently verify his claim, and since their initials reports both the State Department and Clinton's campaign have dismissed the allegations. In a recent interview with NBC's Andrea Mitchell, Clinton said she had no reason to believe she was hacked. Her campaign also dismissed the Hacker's claims that he hacked her server as completely "unfathomable." 
"Guccifer," was the one who first exposed Hillary Clinton's use of a private email server. He was extradited to the United States in late March.  Lazar was believed to have posted emails that were sent to then-Secretary of State Clinton on the internet, including correspondence from close Clinton advisor Sidney Blumenthal. Lazar was brought to the United States, just as reports indicate that the FBI investigation into Clinton's email server was in in full swing. Lazar is charged with wire fraud, cyberstalking, identify theft, unauthorized access to computers and obstruction of justice.
[screengrab via NBC News]
Have a tip we should know? [email protected]
Rachel Stockman - President / On Air Host