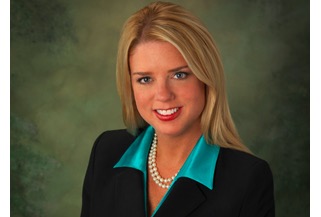 The Democratic Coalition against Trump has filed a complaint with the FBI's Public Corruption unit against Florida Attorney General Pam Bondi. Bondi is under fire after her re-election super PAC accepted a $25,000 donation from the Trump Foundation. Shortly after that, Bondi's office is accused of deciding not to pursue a case against Donald Trump and Trump University, even though her office had received at least one complaint about the University. Other states, including New York, did pursue a case against Trump University.
"The case against Trump University never commenced. We believe that this contribution was made by Trump to Bondi in return for the Florida Attorney General's office not pursuing a case against Trump University, and therefore that it is prime example of public corruption," the complaint filed with the FBI reads.
"There are real victims here – people lost everything to Trump's scam, and Bondi let the people of Florida down by failing even to investigate. Now, the public needs to know – before they head to the polls – if that was merely incompetence, or if it was the result of bribes paid by Trump to elected officials,"  Scott Dworkin, Senior Advisor to the The Democratic Coalition Against Trump said in a press release. The group is a super PAC dedicated to defeating Donald Trump.
Bondi's office released this statement:

All articles misreporting that this Office made a determination not to investigate or sue Trump University in 2013 stem from an Orlando Sentinel story that erroneously reported that this Office was reviewing the New York lawsuit's allegations "to determine whether Florida should join the multi-state case." This was absolutely not true. 

At the time of the report, the records show a staff member briefly reviewed "the allegations of the New York complaint to see if they have any relevance to Florida." We never stated that we were reviewing the allegations to determine whether we would join a "multistate" action, as none existed, and staff had not conducted any investigation.
Election experts agree that if Bondi decided not to pursue the case because of Trump's donation — that would be an "official act" and could fall under the purview of public corruption laws.  However, there are some problems with a potential case against her.
"There is little doubt that deciding not to prosecute would count as an official act.  However, the harder question is whether there was an actual quid pro quo.  So far there has been nothing to indicate that there was one," Meredith McGehee, the policy director for the Campaign Legal Center told LawNewz.com. In other words, prosecutors would have to prove some kind of explicit agreement between Trump and Bondi to successfully pursue a case.
In an interview last week, Trump said he never spoke to Bondi about the donation.
"Never spoken to [Bondi] about it. Never," Trump said. "Many of the attorney generals turned that case down because I'll win that case in court, many turned that down.  I never spoke to her about that." The Trump Foundation was made to pay a $2,500 fine to the IRS after an investigation revealed the $25,000 donation. The Trump organization contends the donation was just a paperwork mix-up and was an "honest mistake."
This article has been updated with a statement from Bondi's office. 
[image via Florida AG's Office]
Have a tip we should know? [email protected]
Rachel Stockman - President / On Air Host