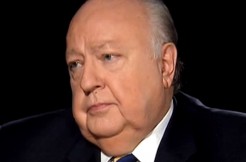 On Thursday, attorneys for Gretchen Carlson said Fox News CEO Roger Ailes made a "demonstrably false" claim. Carlson's contract with Fox wasn't terminated because of bad ratings, they said. As matter of fact, she was killing it, they claim.
"The publicly available ratings confirm the allegation in the Complaint that at the time of her termination Gretchen's total viewership was up 33% year to date and up 23% in the key demographic," they said in a statement obtained by LawNewz.com. "After her firing from Fox and Friends for complaining about discrimination, Gretchen was moved to a challenging time slot and denied support and promotion. Despite this, she succeeded and was the number one cable news show in her time slot in total viewers."
They went on to dare Ailes to deny Carlson's sexual harassment and retaliation allegations in court.
Carlson is suing Ailes (but not Fox News) over sexual harassment she allegedly faced while at the company. The former Fox & Friends co-host said that while she worked there, Ailes made numerous sexist statements, and hit on her multiple times. She claims he hindered her career after she stood up for herself.
Thursday's statement from Carlson's attorneys comes after Ailes statement on Wednesday.
"This is a retaliatory suit for the network's decision not to renew her contract, which was due to the fact that her disappointingly low ratings were dragging down the afternoon lineup," he said in a statement, "When Fox News did not commence any negotiations to renew her contract, Ms. Carlson became aware that her career with the network was likely over and conveniently began to pursue a lawsuit. Ironically, Fox News provided her with more on-air opportunities over her 11-year tenure than any other employer in the industry, for which she thanked me in her recent book. This defamatory lawsuit is not only offensive, it is wholly without merit and will be defended vigorously."
Carlson joined Fox in 2005, co-hosting Fox & Friends for years until she was given her own show, The Real Story with Gretchen Carlson. She hosted it until her contract expired on June 23.
–
Follow Alberto Luperon on Twitter (@Alberto Luperon)
Update 4:45 pm
A Fox News spokesperson pointed out these recent ratings reports from Nielsen which found:
Gretchen's program The Real Story got beat by CNN during the recent month of June in the all-important 25-54 demographic and had the narrowest margin of victory over CNN of any FNC show for the second quarter of 2016.  Additionally, The Real Story was the network's lowest-rated program in both June and in the second quarter with Adults 25-54.

Have a tip we should know? [email protected]