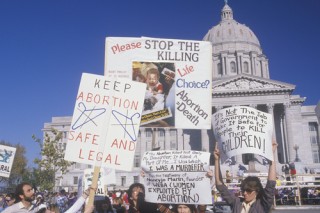 The year after the U.S. Supreme Court struck down a Texas anti-abortion law, the Lone Star State is primed yet again to enact another controversial bill. It is all but certain that Gov. Greg Abbott, a Republican, will sign SB 8 after the state Senate passed it on Friday. But it is also a safe bet opponents will sue to overturn it.
This bill is a nightmare for advocates of abortion rights. It prohibits both partial-birth abortions and a procedure called dilation and evacuation (D&E). SB 8 also establishes other requirements, including the burial of fetal tissue remains.
It may face a stiff challenge in court once enacted. Challenges to similar bills have sprouted up in states like Alabama, Kansas, and Louisiana,
Opponents of the Texas bill will likely point to D&E's reputation as being a safe form of abortion. From the Guttmacher Institute's page on the procedure.
D&E is the typical method of abortion during the second trimester. In those states where the D&E procedure is banned, an abortion provider must induce fetal demise or labor, adding unnecessary risk without any medical benefit to the patient.
The Supreme Court upheld a ban on a certain kind of partial-birth abortion in 2007's Gonzales v. Carhart. Justices ruled 5-4 that it did not implement an undue burden on the right to terminating pregnancies. That is because other, safer procedures remained available, but note this quote from the majority opinion by Anthony Kennedy.
"Alternatives are available to the prohibited procedure," he wrote. "As we have noted, the Act does not proscribe D&E [dilation and extraction]. One District Court found D&E to have extremely low rates of medical complications."
That's right, that ban stood clear of D&E, which benefited it in court.
Kennedy later added: "The Act is not invalid on its face where there is uncertainty over whether the barred procedure is ever necessary to preserve a woman's health, given the availability of other abortion procedures that are considered to be safe alternatives."
He joined the majority again in 2016's 5-3 decision in Whole Woman's Health v. Hellerstedt. They overturned two parts of a Texas law, known as HB 2, that regulated abortion providers. Justices held that lawmakers went too far, placing undue obstacles to abortions.
So for critics of the new Texas bill, availability may be the key word during the nigh-inevitable court battle.
[Image via Shutterstock]
Have a tip we should know? [email protected]