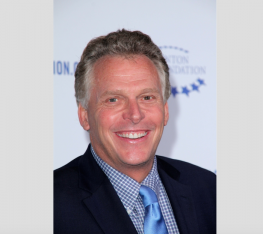 Virginia Governor Terry McAuliffe is making no secret of the fact that he is not happy with the FBI and the U.S. Department of Justice.  In an interview on Wednesday morning, the governor accused the two agencies of leaking information about the ongoing investigation into his campaign donations to CNN.
"It is very unfortunate that our institutions of integrity like Justice and the FBI would leak information," McAuliffe said during an interview on WTOP radio. "They should be held to a higher standard. But listen, you live in this world, you're in politics. These things happen."
Earlier this week, CNN broke the news that federal investigators were looking into contributions made to McAuliffe's 2013 gubernatorial campaign.  As a part of the probe, investigators are reportedly examining more than 100 contributions made to both the Clinton Foundation and McAuliffe's campaign.  Specifically, feds are said to be focused on donations from Chinese businessman Wang Wenliang.
After previously denying that he knew Wang, Gov. McAuliffe seemed to backtrack on that statement on Wednesday.
"They say that [Wang] may have come to the inaugural, not sure. We may have had him over for a cup of coffee with my secretary of (agriculture). So we're having our people pull out all of the schedules. I have had no dealings, I would not know the man if sat in this chair next to me," Gov. McAuliffe told WTOP radio.
The governor even stuck up for Wang during the interview.  CBS News reports Gov. McAuliffe said Wang was a "fine upstanding individual" and he was being "dragged through the mud because of a leak from Justice or FBI to CNN."
Gov. McAuliffe reportedly denied any wrongdoing and would not say whether he has spoken with the Clintons about the matter.
Have a tip we should know? [email protected]