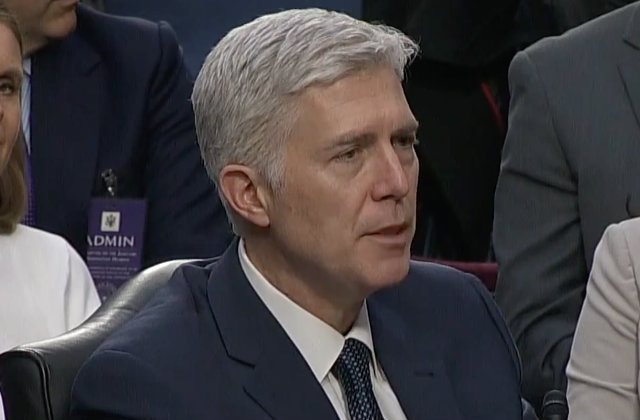 Articles posted last night by Politico and BuzzFeed revealed similarities in Supreme Court nominee Judge Neil Gorsuch's academic writing with sources he reportedly failed to acknowledge. The articles gave examples of how Gorsuch's 2006 book, The Future of Assisted Suicide and Euthanasia used some of the same language as a 1984 Indiana Law Journal article by Abigail Lawlis Kuzma.
Kuzma herself, however, doesn't have a problem with it. She said in a statement on the matter:
I have reviewed both passages and do not see an issue here, even though the language is similar. These passages are factual, not analytical in nature, framing both the technical legal and medical circumstances of the "Baby/Infant Doe" case that occurred in 1982. Given that these passages both describe the basic facts of the case, it would have been awkward and difficult for Judge Gorsuch to have used different language.
Despite the support from the original author, both Politico and BuzzFeed cited seperate additional works on the same subject that worded things differently, in an effort to prove Kuzma wrong and show that Gorsuch could have done better.
BuzzFeed also notes similarities between Gorsuch's writing and that of Graham Rossiter from a 1995 medical journal article. Politico mentions how the judge also seems to use "patchwriting," a method of stitching together language from another source while making it slightly different, to borrow words from a 2003 book on euthanasia by Ian Dowbiggin. Neither of those authors commented for the respective articles.
Despite these accusations, the White House is defending the Supreme Court nominee. They gave statements from several scholars who had worked with Gorsuch, defending his writing practices. In addition, White House spokesman Steven Cheung said:
There is only one explanation for this baseless, last-second smear of Judge Gorsuch: those desperate to justify the unprecedented filibuster of a well-qualified and mainstream nominee to the Supreme Court.
[Image via screengrab]
Have a tip we should know? [email protected]