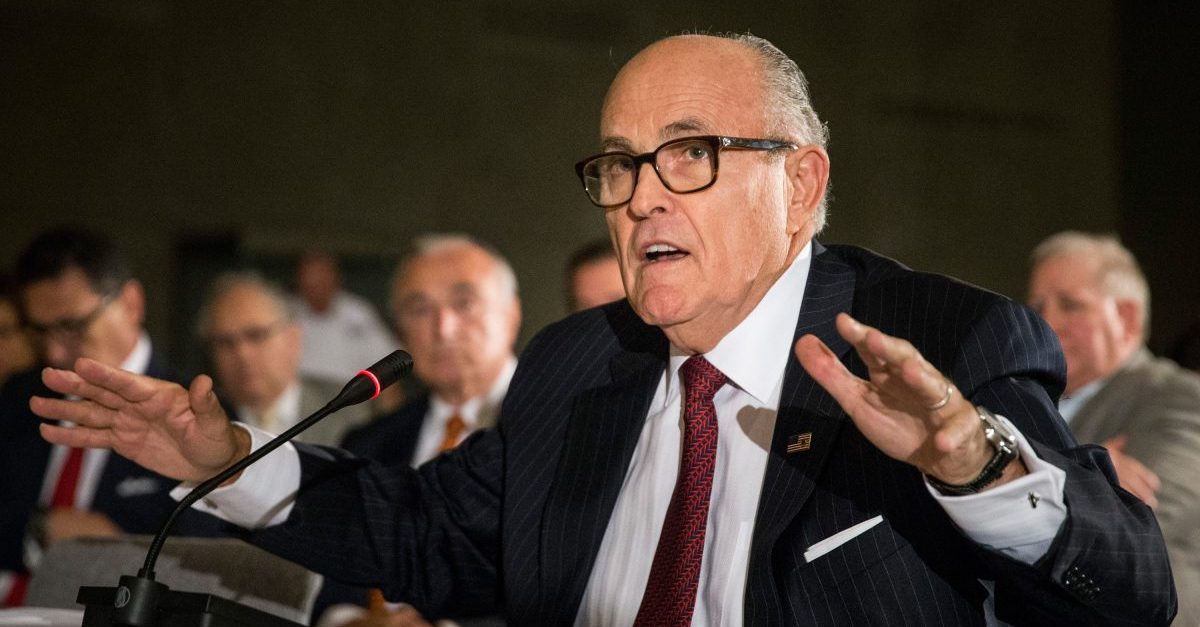 President Donald Trump on Friday morning tried to dismiss controversial remarks from Rudy Giuliani, one of the newest members of his legal team. Addressing reporters, Trump said that Giuliani was new to the job and would "get his facts straight."
Giuliani had stated that the $130,000 that Trump's other lawyer Michael Cohen paid to adult film star Stormy Daniels had been "funneled" through a law firm, and that Trump reimbursed him. Giuliani also commented on the timing of the payment, which was days before the 2016 election.
This appeared to cause problems for Trump, who had denied knowing anything about the payment. Similarly, Cohen has insisted that he was never reimbursed, and paid Daniels on his own. If Trump had known about the payment at the time, it could be a violation of campaign finance laws because it would arguably be an in-kind contribution to the campaign, as the payment purchased Daniels' silence at the height of the election season. Even if Trump eventually repaid the money, it would still be problematic. Relevant campaign finance laws place caps on how much people can contribute to a campaign, and require campaigns to report their income and expenditures.
In an effort to apparently "get his facts straight," Giuliani released a statement addressing various legal issues that Trump is facing.
The Rudy statement pic.twitter.com/wjaTNL6Ny9

— Josh Dawsey (@jdawsey1) May 4, 2018
Giuliani's statement made three points. First, that the payment to Daniels was not a campaign contribution, and was made "in order to protect the President's family." He said it would have been done "whether he was a candidate or not."
Next, he basically said that people should ignore his reference to the time of the payment as being close to the campaign, because that was not an indication of Trump's intent or knowledge regarding the payment, but rather just his own understanding of the events.
These points echo the defense made by former Democratic presidential candidate John Edwards, who faced criminal charges in a similar situation. Edwards was accused of campaign finance violations related to payments made to his mistress to remain silent about their affair during his 2008 campaign. Edwards claimed that he was not aware of the payments at the time, and that any effort to silence the woman was meant to protect his family, not his campaign.
Third, Giuliani touched on a separate matter, obstruction of justice. He said, "It is undisputed that the President's dismissal of former Director Comey — an inferior executive officer — was clearly within his Article II power."
This is in line with an argument made by legal scholars who claim that a president cannot be charged with obstruction for carrying out an act that is within his constitutional powers. A president can indeed fire the FBI Director for no reason at all if he so desires. Experts on the other side of this argument maintain that while a president can fire the FBI Director, it's still obstruction if the firing was meant to impede an investigation of affairs to which he is connected.
[Image via Andrew Burton/Getty Images]
Have a tip we should know? [email protected]