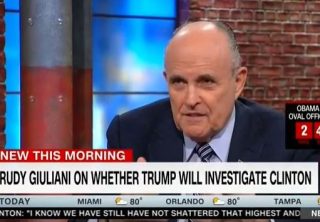 Former New York City Mayor Rudy Giuliani appeared on CNN Thursday morning and discussed whether or not he would be interested in serving as Attorney General in Donald Trump's administration. Giuliani touted his experience, saying he would be a great fit for the position.
"There's probably nobody that knows the Justice Department better than me," he said.
But then there was the big question: if he becomes Attorney General, would he go after Hillary Clinton for her private email server or her role in any potential criminal activity regarding the Clinton Foundation? And what if President Trump said he wanted to move on and not prosecute Clinton?
"We would have to talk about it," Giuliani said about dropping any case against Clinton. "We would have to talk about the ramifications of that to other prosecutions … suppose more evidence came forward a year from now that we don't know about now that makes it a worse situation."
One thing he made very clear is that he doesn't think current President Barack Obama should pardon Clinton. "If he pardons her, he's got to pardon about fifteen other people who helped her."
However, Giuliani is not necessarily opposed to dropping the Clinton case altogether, depending on the situation. "I think it's a very close question … How bad is that evidence? If it isn't as bad as the exaggerators think it is, then maybe the best thing is to forget about it and move on."
[Screengrab via CNN]
Have a tip we should know? [email protected]