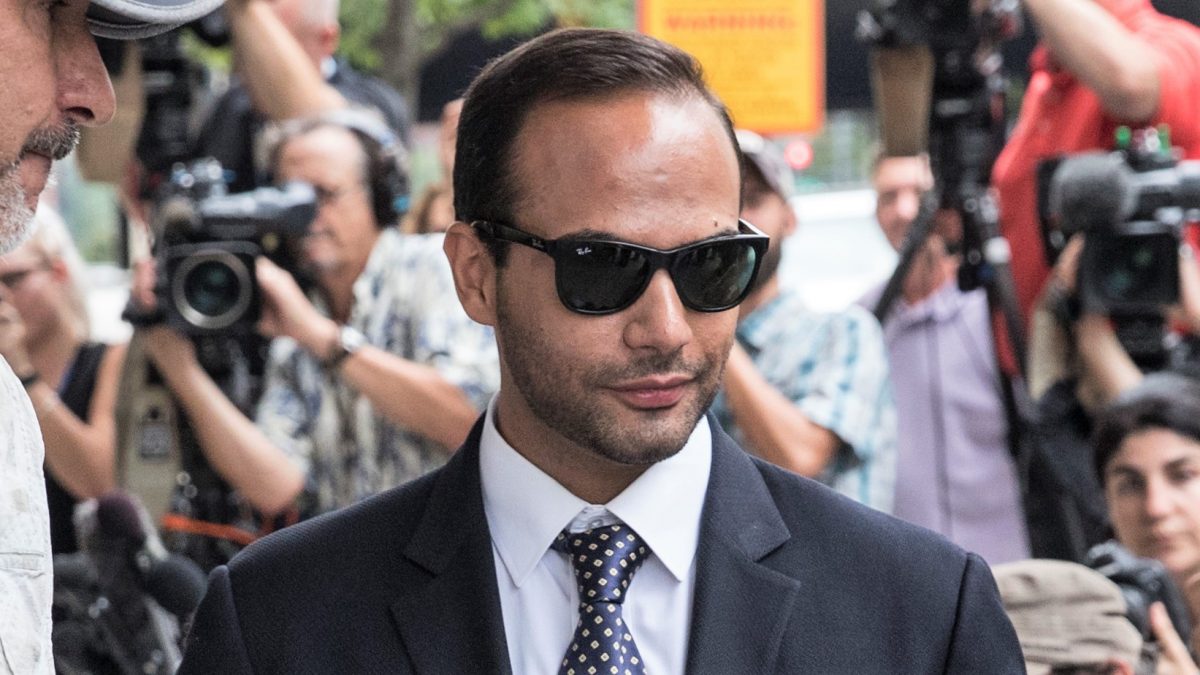 Just days after George Papadopoulos' attorneys Thomas M. Breen and Robert W. Stanley said their goodbyes and Papadopoulos tweeted that he's had "[e]nough of the responsive and passive approach," a new strategy has emerged.
First of all, Papadopoulos has a new defense attorney in Michael P. Hatley. Hatley hails from the Pierce Bainbridge Beck Price & Hecht law firm. Attorneys John M. Pierce, Christopher N. LaVigne and Caroline J. Polisi (also from this firm) are waiting to have their pro hac vice appearances in this case approved.
The more eye-popping development is this: Papadopoulos is motioning to "continue bail pending the decision of the United States Court of Appeals for the District of Columbia Circuit in In re: Grand Jury Investigation." Don't know what this case is? It's former Roger Stone aide Andrew Miller's challenge of Robert Mueller's authority.
Even though no challenge of Mueller's authority has up to now been successful, Papadopoulos is holding out hope that if Miller's appeal is "successful," then that would mean the Special Counsel "lacked constitutional authority to prosecute Mr. Papadopoulos in the first instance."
You may recall that Miller refused to comply with a Mueller subpoena, even after a judge ordered him to appear before a grand jury. Miller's attorney Paul Kamenar explained that Miller didn't show so he would be held in contempt — so that he could appeal U.S. District Chief Judge Beryl Howell's order in the District of Columbia.
Papadopoulos' legal team said that since their client isn't a flight risk or a danger to the community, Papadopoulos' 14-day jail stint for lying to the FBI should be put on hold until the outcome of Miller's appeal is revealed.
"The Court sentenced Mr. Papadopoulos to 14 days incarceration, 12 months of supervised release, and 200 hours of community service, and assessed a fine of $9,500. He is due to begin his term of incarceration on November 26, 2018. However, the D.C. Circuit's decision in the pending appeal in In re: Grand Jury Investigation may directly impact the validity of Mr. Papadopoulos's prosecution and conviction," Papadopoulos' team argued. "The appeal challenges the constitutionality of the appointment of Special Counsel Robert S. Mueller III (the "Special Counsel")."
They say that because the Miller case has been "fully briefed and argued, a modest stay of [Papadopoulos'] incarceration pending the outcome of that appeal should be granted."
The challenge boils down to whether Mueller is a "principal" or "inferior" officer as defined in Appointments Clause of the Constitution. The difference is important because principal officers are to be nominated by the president of the United States "with the Advice and Consent of the Senate."
Inferior officers, on the other hand, have different rules: "Congress may by Law vest the Appointment of such Inferior Officers, as they think proper, in the President alone, in the Courts of Law, or in the Heads of Departments."
Judges have consistently held that Mueller is an "inferior officer." That means Mueller's appointment as special counsel is legal, even though he was not confirmed by the Senate or appointed by the president.
It remains to be seen if this move constitutes a breach of Papadopoulos' plea agreement.
[Image via Alex Wroblewski/Getty Images]
Have a tip we should know? [email protected]