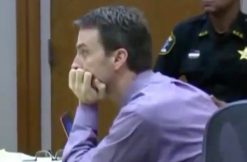 Former Florida law enforcement officer Frank Bybee has been found not guilty of attempted murder, but guilty of several lesser charges in a case where prosecutors say he cozied up to an elderly woman who called his department for help, took her money, and then tried to kill her to cover it up.
The jury delivered the mixed verdict Friday night just before 8 p.m.
The jury acquitted on the top count, attempted murder, but found Bybee guilty of exploiting the elderly and kidnapping. The jury also acquitted on several lesser charges.
Bybee, a former deputy sheriff in Sarasota County, faced eighteen charges related to his conduct surrounding alleged victim Marcia Sohl. The charges were attempted murder, exploiting the elderly, burglary, the fraudulent use of personal identification information, and computer crimes. Several of the charges contained multiple counts.
During closing arguments, prosecutors said the case was about "opportunity," "greed," and "anger." The state pointed out that Bybee swore an oath to protect others, then argued that he betrayed the trust the community placed in him. In a chain of events, prosecutors argued Bybee chose the "perfect victim," someone "alone and isolated and vulnerable," and even sent fake emails from Sohl's accounts in one of several efforts to make the victim sound crazy. His knowledge of law enforcement procedures helped him get Sohl committed to a mental institution, prosecutors argued.
On the night prosecutors say Bybee tried to kill Sohl, he turned off his cell phone for seven hours, borrowed a truck, and wore blue gloves to prevent leaving prints or DNA at Sohl's home.
Prosecutors tried to gloss over issues with the 80-year-old victim's memory by reminding jurors that Sohl was always consistent in saying Bybee tried to kill her. Sohl claims Bybee tried to kill her by forcing her to swallow pills. She claims she struggled back and passed out. When she awoke, she realized the car in her attached garage was running, filling her home with carbon monoxide.
Defense attorneys countered that Sohl's relationship with Bybee was toxic. The defense says Sohl threatened to report Bybee to his own department for refusing to fix her mailbox and clean out her garage. The defense also characterized Sohl as an abusive woman who is known for foul language.
The defense called a neighbor to the stand who testified Sohl had been a toxic individual for years. The neighbor testified that Sohl had threatened to kill herself several times. The day before Sohl claimed she was attacked, Sohl had called the sheriff's department to try to get Bybee into trouble for her mental health commitment. Defense attorneys pointed out that the doctors, not Bybee, were ultimately responsible for committing Sohl for mental health treatment.
The defense also argued that Sohl's version of events doesn't match up because it was made up, not because her memory is faulty. They further argued that the prosecution's assertion that Bybee borrowed a truck to avoid detection doesn't make sense because the timeline doesn't match up.
The neighbor also testified that Sohl was loose with her money. Sohl gave the neighbor a credit card and even told the neighbor she'd pay off her mortgage. Defense attorneys for Bybee argued that Sohl is the one who brought Bybee into her life and that the checks she wrote to him were payments for things he either bought or did for her.
The defense also told jurors that the so-called "attack" on Sohl does not make sense. Bybee weighs 185 pounds and could easily have overpowered a frail, 80-year-old woman, but Sohl claims the attack occurred for more than an hour.
Have a tip we should know? [email protected]
Aaron Keller - Deputy Editor-in-Chief