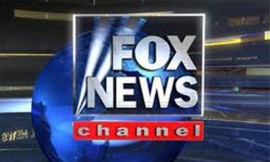 Fox News and North Jersey Media have agreed to end a lawsuit in a confidential settlement announced on Tuesday.
In a statement obtained by LawNewz.com, attorney Dori Ann Hanswirth, who is representing Fox wrote that "North Jersey Media will discontinue its copyright infringement claims against Fox News, and Fox News will discontinue its copyright infringement and unfair competition claims against North Jersey Media."
North Jersey, which publishes the Herald News and The Record, got mad over Fox's use of an iconic firefighter photo on the anniversary of 9/11. The photo was taken by Thomas Franklin for NJ on a work-for-hire basis, and so company then claimed copyright in legal action headed by attorney William Dunnegan. Fox defended their use of the pic, citing fair use.
We'd post the photo in question, but you know, legal action and all that. Still, you've definitely seen it somewhere: "Raising the Flag at Ground Zero." Three firefighters raise a flag at the ruins of the World Trade Center. It evokes the also-iconic 1945 picture, "Raising the Flag on Iwo Jima," where U.S. Marines plant the flag after one of the bloodiest battles of World War II.
In February 2015, New York Federal Judge Edgardo Ramos shot down Fox's summary judgement motion, and that fair-use argument, saying the treatment of the photo wasn't transformative enough to pass muster.
As we mentioned we earlier, the settlement's a secret, but in a December article, The Hollywood Reporter guessed that if Fox were found liable for willful copyright infringement, it'd probably pay about $300,000 (and maybe legal costs).
[h/t The Hollywood Reporter]
[image via Fox News screengrab]
–
Follow Alberto Luperon on Twitter (@Alberto Luperon)
Have a tip we should know? [email protected]