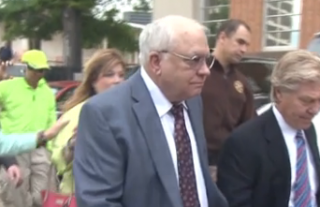 Despite reports that he had been given special treatment during his time as a volunteer sheriff's deputy, an Oklahoma court showed no favoritism, convicting Robert Bates of manslaughter for the death of Eric Harris, CBS News reported. Bates was on backup duty for a sting operation at the time, and Harris was a suspect. Bates claimed that he meant to use his taser on the unarmed man, but ended up firing his pistol instead, while other deputies were trying to arrest Harris.
A 2009 investigation showed that Bates, 73 at the time of the shooting, did not complete all of the necessary training to be a volunteer deputy, but was given a pass. He also supposedly used his own car on the job and made unauthorized stops, according to CBS.
Bates's attorney argued that Harris didn't die from the shooting, but from drugs and a bad heart. The jury wasn't convinced, and deliberated for less than three hours before convicting Bates and recommending the maximum sentence. Bates, now 74, could face up to four years in prison.
[screengrab via CBS]
Have a tip we should know? [email protected]