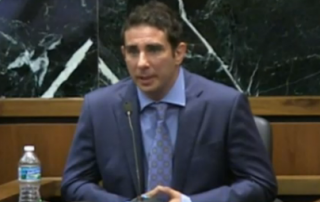 A.J. Daulerio, the former Editor-in-Chief of Gawker.com, took the stand on Monday and discussed his process behind posting excerpts of Hulk Hogan's sex tape on the website. He said when he first saw the video, he was "amused" seeing the wrestler he watched decades ago in a very different position.
Daulerio described his decision to go through the tape, and make a highlight reel with accompanying commentary. He claimed that his intention was not to show the most graphic material on the tape, and only used 9-10 seconds of sexual activity.
What followed was a more detailed discussion of the tape itself, as well as how Gawker enjoyed higher traffic from the video. Once again, Tom Kludt from CNN tweets his own highlight reel:
Hearing Gawker's kindly attorney Michael Sullivan read this graf might be the new highlight of #hulkvsgawk pic.twitter.com/hiv8u1MvxA

— Tom Kludt (@TomKludt) March 14, 2016
Daulerio said he was "pleasantly surprised" by how popular the Hogan post was #hulkvsgawk

— Tom Kludt (@TomKludt) March 14, 2016
Daulerio left his post at the helm of the entertainment site three months after they posted the video.
Check out the video below, catch the live feed of the trial here, and stay with LawNewz.com for further updates.
Have a tip we should know? [email protected]