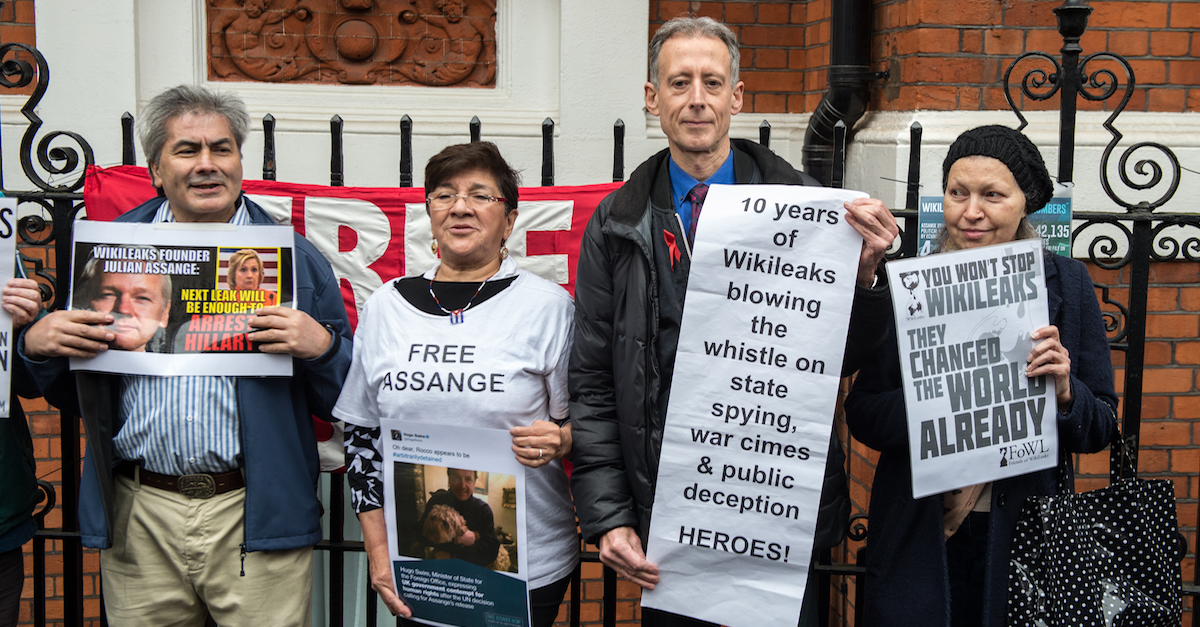 U.S. Attorney for the Southern District of New York (SDNY) Geoffrey Berman announced Monday evening that former CIA employee Joshua Adam Schulte, 29, has officially been charged for the unauthorized disclosure of classified materials.
It's being called the largest leak of classified information in CIA history.
Schulte was first named mid-May as the suspect in the 2017 WikiLeaks leak of the so-called "Vault 7," which contained information about secret CIA cyber weapons, hacking tools and spying techniques.
The investigation has for months but prosecutors hadn't not charged him until now for theft of classified national defense information from the CIA and for transmitting that to "Organization-1," which is reportedly WikiLeaks, and more:
[Schulte] is charged with one count each of (i) illegal gathering of national defense information, (ii) illegal transmission of lawfully possessed national defense information, (iii) illegal transmission of unlawfully possessed national defense information, (iv) unauthorized access to a computer to obtain classified information, (v) theft of Government property, (vi) unauthorized access of a computer to obtain information from a Department or Agency of the United States, (vii) causing transmission of a harmful computer program, information, code, or command, (viii) making material false statements to representatives of the FBI, (ix) obstruction of justice, (x) receipt of child pornography, (xi) possession of child pornography, (xii) transportation of child pornography, and (xiii) copyright infringement. A chart containing the charges and maximum penalties is below. The maximum potential sentences in this case are prescribed by Congress and are provided here for informational purposes only, as any sentencing of the defendant will be determined by the judge.
Schulte has been jailed in Manhattan on unrelated charges of possessing, receiving and transporting child pornography, the Washington Post reported. Those charges remain. He has pleaded not guilty.
In the Monday press release, authorities said FBI agents found that Schulte searched for child pornography on Google.
"Joshua Schulte, a former employee of the CIA, allegedly used his access at the agency to transmit classified material to an outside organization.  During the course of this investigation, federal agents also discovered alleged child pornography in Schulte's New York City residence," Berman said in a statement. "We and our law enforcement partners are committed to protecting national security information and ensuring that those trusted to handle it honor their important responsibilities. Unlawful disclosure of classified intelligence can pose a grave threat to our national security, potentially endangering the safety of Americans."
As Law&Crime previously reported, Schulte's apartment was raided last year for his computer and notes, but authorities came up empty-handed as far as smoking gun evidence of leaking "Vault 7."
Assistant U.S. attorney at the Southern District of New York (SDNY), Matthew Laroche, had said Schulte "remains a target" of an ongoing investigation into whether he used TOR to anonymously disclose classified information.
A source with knowledge of what Schulte did at the CIA told the Washington Post he coded for the Engineering Development Group (EDG), a group involved in the development of cyber weapons.
Schulte commented that he wanted to serve his country after 9/11 and did so during his time at the CIA.
He said suspicion of him is based in his report of "incompetent management and bureaucracy [at the CIA]" and the fact that he appeared to be the "only one to have recently departed [EDG] on poor terms." He also said a coincidentally planned vacation with his brother made authorities wrongly believe he was fleeing the country.
"Due to these unfortunate coincidences the FBI ultimately made the snap judgment that I was guilty of the leaks and targeted me," he said.
On March 7, 2017, WikiLeaks said in a press release that it had obtained a "new series of leaks on the U.S. Central Intelligence Agency" that was "[c]ode-named 'Vault 7.'"
"[I]t is the largest ever publication of confidential documents on the agency," WikiLeaks declared.
Law&Crime has reached out to WikiLeaks for comment.
[Image via Chris J Ratcliffe/Getty Images]
Have a tip we should know? [email protected]