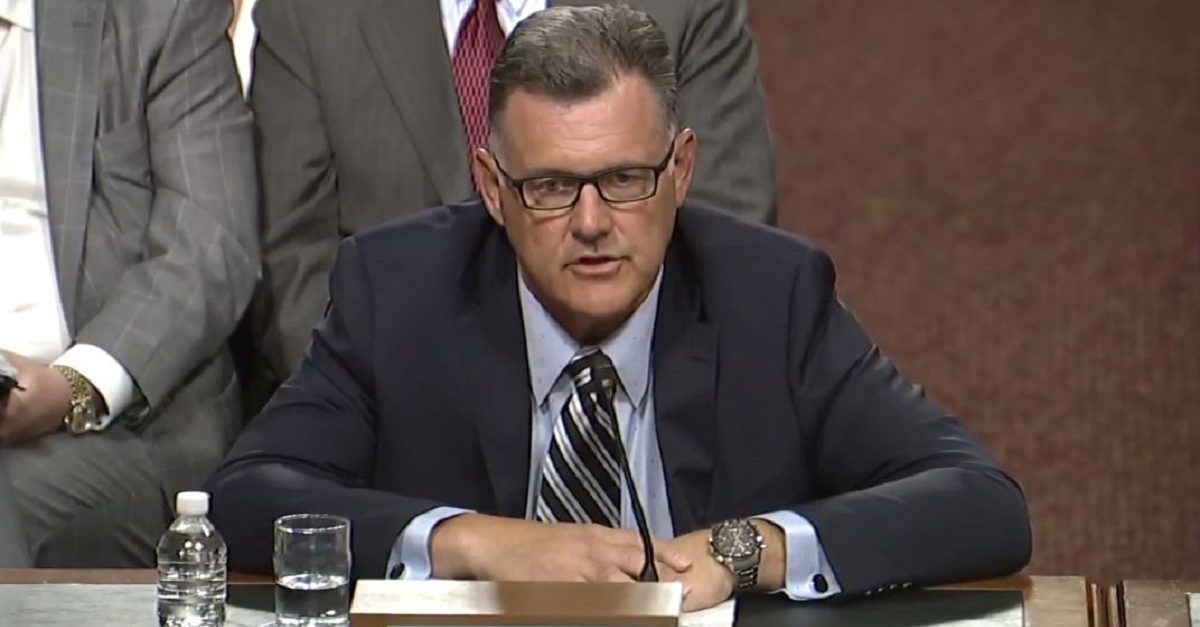 Law enforcement officials arrested former USA Gymnastics CEO Steve Penny on Wednesday, after a grand jury in Texas indicted him based on allegations that he tampered with evidence in the investigation of former team doctor Larry Nassar. Nassar was sentenced to up to 175 years in prison for sexually assaulting women and girls while he was the USA Gymnastics team doctor.
According to a press release from Walker County District Attorney David P. Weeks, the indictment states that Penny ordered documents to be removed from the USA Gymnastics training facility at the Karolyi ranch. Those documents are said to be related to Nassar's actions at the facility, which has since been shut down as a USA Gymnastics training center. Those documents, the indictment says, were then sent to Penny at his USA Gymnastics office in Indianapolis, but authorities don't know what happened to them. They allege that Penny specifically had them removed from the ranch to obstruct the Nassar investigation.
"Mr. Penny is confident that when all the facts are known it will be shown that he did nothing criminal," his attorney Edith Matthai told IndyStar.
Penny was arrested by a U.S. Marshal's Task Force in Gatlinburg, Tennessee, and he is being held there until he is eventually extradited to Walker County, Texas.
Penny, who served as USA Gymnastics CEO from April 2005 until he resigned in March 2017, was indicted on a charge of tampering with evidence, which is a third degree felony carrying a penalty of up to ten years in prison.
Nassar was accused of sexual assault by hundreds of females who claimed that he abused them under the guise of medical treatments, going back to the 1990s. He pleaded guilty to several counts in criminal cases in Michigan. He is currently serving a 60-year sentence for a federal child pornography conviction.
[Image via screengrab]
Have a tip we should know? [email protected]