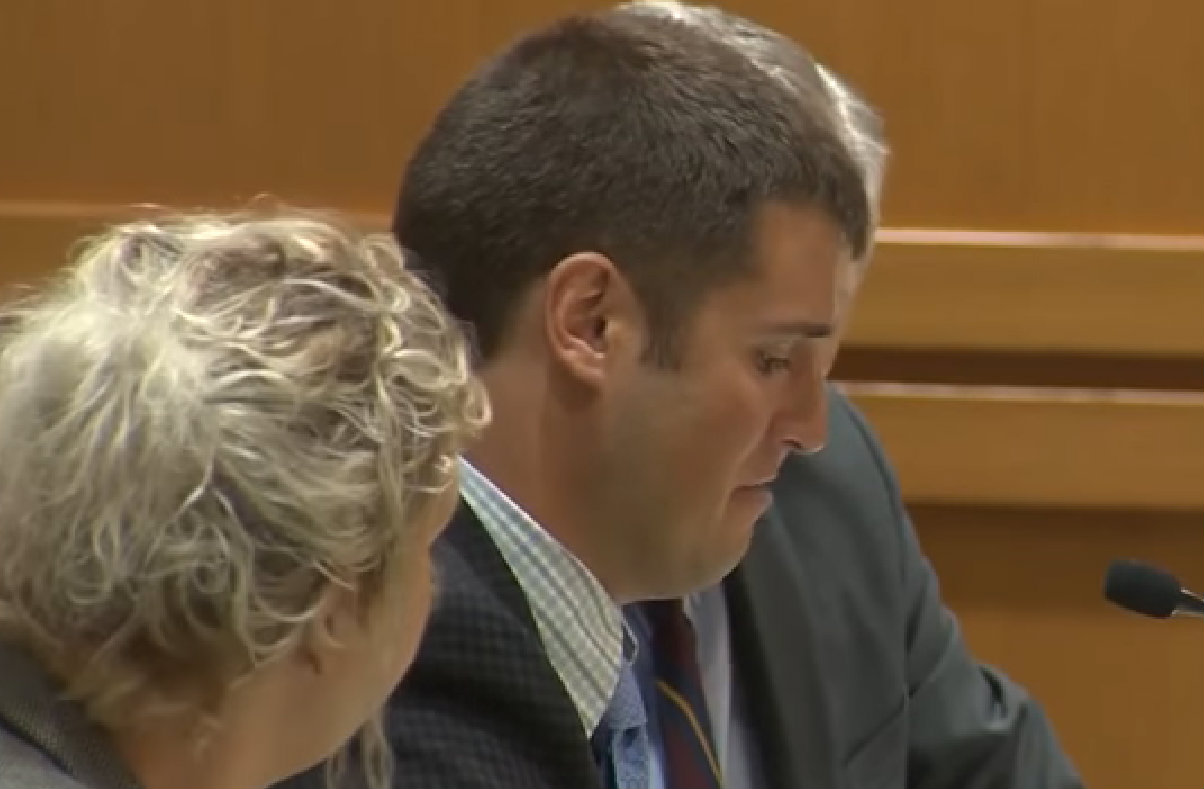 The sentence came down Thursday for 22-year-old Alec Cook:  three years in prison for admitting to sexually assaulting three female students at the University of Wisconsin-Madison, choking a fourth student, and stalking a fifth student, according to The Associated Press. Compare that to the possible maximum sentence of 39 years and 6 months. Prosecutors asked for 19 years.
Both sides in the Cook case argued over the public outrage which followed the 2016 sentence of former Stanford University student Brock Turner. Turner was convicted after a trial of sexually assaulting an unconscious woman near a dumpster. The six-month sentence issued by Santa Clara County Judge Aaron Persky garnered outrage, and critics recently convinced voters to recall him.
The prosecution team in the Cook case tried to use the Turner case as an example of why Cook deserved a longer sentence. Cook's defense accused prosecutors of trying to bully the court, according to the Madison, Wis. State Journal.
Cook will spend eight years under extended supervision after being released. He will also have to register as a sex offender. Dane County Circuit Judge Stephen Ehlke cited the defendant's adherence to bail conditions, lack of prior criminal record, and guilty pleas to some of the charges he faced as the reasons for going light on Cook. Ehlke also said he hoped the survivors would find closure from the end of the criminal case.
"What I want them to know is I listened to those voices very carefully," Ehlke said, according to the State Journal. "I want them to know that it's OK if they didn't agree with me on some of the motions that have been referred to." He later said, "But what I do want them to know is I tried my level best in this case and every case that I have before me to be fair to everyone."
Wisconsin Attorney General Brad Schimel criticized the decision.
"The Wisconsin Department of Justice is disappointed that Alec Cook did not receive the much longer sentence the prosecution team recommended, and we still believe that is what Alec Cook deserves," he said in a statement published Thursday. "I am proud of the Madison Police Department and UW-Madison Police Department investigators, Dane County District Attorney's victim services, and prosecutors from the Dane County DA's Office and Wisconsin DOJ for their hard work and commitment to justice for these survivors. While those survivors wish that a longer prison sentence had been imposed, they stood strong. At DOJ, we hope that the fact that Alec Cook stands convicted as a felony sex offender and is on his way to prison will give survivors faith that there are people in the criminal justice system who stand ready to fight for justice for them."
Authorities identified 11 women as survivors of sexual assault, strangulation, stalking, false imprisonment, stalking, or disorderly conduct actions by Cook. Cook pleaded guilty in February to three counts of third-degree sexual assault, one count of strangulation and suffocation, and one count of stalking. Eighteen other criminal charges against him were dropped.
Cook, a student at the University of Madison-Wisconsin, was expelled in March 2017.
"I'm sorry," he told the women in court Thursday. "I was wrong. You told the truth and everyone should believe you. This is my fault. You didn't deserve this. And neither did your families. To them, too, I'm so sorry."
Many criticized the 3-year sentence on Twitter.
Cook, a former UW-Madison business student, was initially charged with more than 20 crimes against nearly a dozen women. So I guess the lesson we've learned is it really pays not to have a criminal record before you become a serial sexual predator.

— Ryan Kelly (@NotThatRKelly) June 22, 2018
Another suggested pushing Ehkle out of office.
When can Dane County Minnesota vote Judge Stephen Ehlke out of office? Three years for a serial rapist? What happens when Alec Cook is released and begins raping again? #rapeculture #rape #misogyny #StephenEhlke #AlecCook https://t.co/rRXcA52yLH

— Kathryn Renée Thomas (@MsKathrynRenee) June 22, 2018
That demand evokes the recall election of the judge who sentenced Brock Turner to six months in jail.
[Screen grab via WISC-TV.]
Have a tip we should know? [email protected]