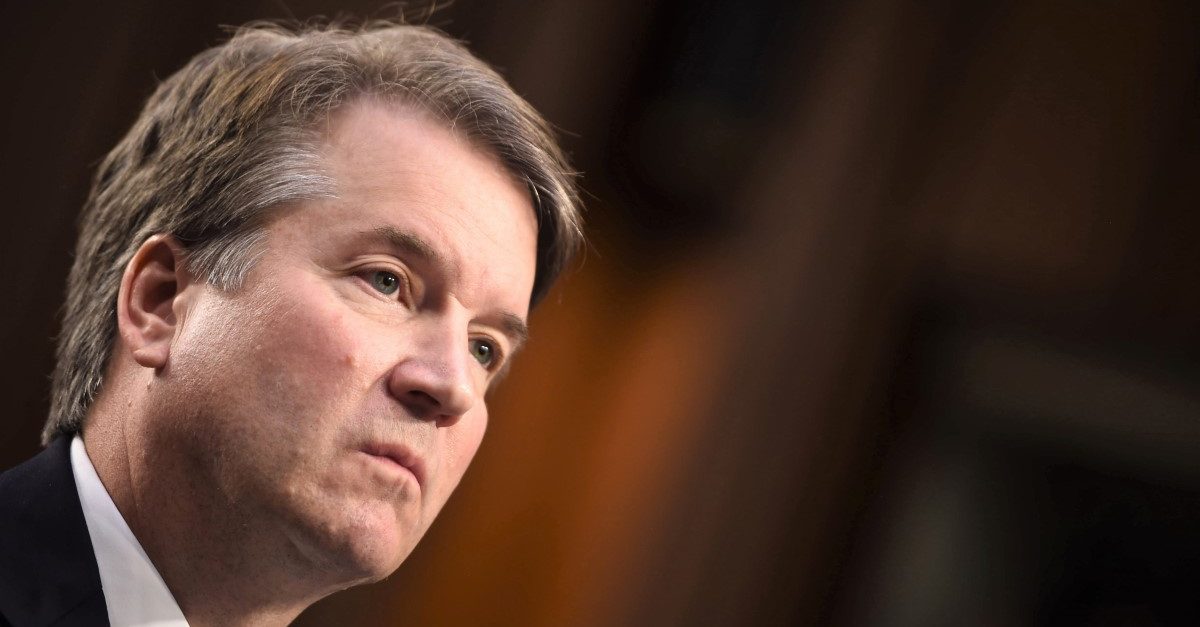 Four lawyers who used to work for Democratic Senators are accusing Brett Kavanaugh of making "many misleading and false statements" during his Supreme Court confirmation hearing, and they claim they're certain he wasn't telling the truth because they were there during a key period in Kavanaugh's career.
The attorneys, Bob Schiff, Kristine Lucius, Jeff Berman, and Lisa Graves, claim in a piece for TIME that Kavanaugh was not telling the truth at his confirmation hearing, or at his previous confirmation hearings in 2004 and 2006, when it came to his role in the nominations of judges when he worked for the White House Counsel's office. Specifically, at Kavanaugh's Supreme Court confirmation hearing, Senator Patrick Leahy, (D-Vermont) asked Kavanaugh about information he received that had been taken from files stolen by Manuel Miranda from Democrats including Leahy himself. Graves and Lucius worked for Leahy. Schiff worked for Russ Feingold (D-Wisc.), and Berman worked for Charles Schumer (D-N.Y.).
At one point, Leahy specified particular email that Kavanaugh received while working for the White House Counsel's office, having to do with information Leahy was interested in regarding a judicial confirmation. Kavanaugh claimed he had no idea at the time that the information was stolen by Miranda, and played it off as no big deal because it was typical to get materials from Democratic staffers.
"It seemed like a lot of times the staff was cooperating at times … about judicial nominations," Kavanaugh said at his recent hearing. "And so, it would not have raised anything in particular in my mind if we learned, 'Oh, Senator Leahy is concerned about this.'"
The Senate attorneys claim this is just false.
"As former staffers who were there at the time, we find this testimony preposterous," they wrote, describing how judicial nominations "were full-fledged and often bitter on both sides," so Democratic staff members would hardly be cooperative.
"To suggest it would have been common to receive contents or descriptions of our memos, talking points, letters and other items about Democratic Senators' strategies on how to defeat these highly controversial nominees is ridiculous," they said.
The attorneys claim that Kavanaugh "was intentionally evasive and misleading in his answers to questions under oath." As far as whether he should face perjury charges, the deferred to the relevant authorities.
"Whether any of these statements should be the subject of federal charges for perjury or impeachment proceedings is a question for prosecutors, the courts and Congress.," they said.
All four came out against Kavanaugh's confirmation, but they said that at the very least the Senate should wait until the remaining confidential documents regarding Kavanaugh's White House history are released to the public, and for there to be a proper inquiry into the sexual misconduct allegations that Christine Ford brought against him.
The Senate Judiciary Committee is still scheduled to vote on Kavanaugh's nomination on Thursday, but that may be delayed, as both Ford and Kavanaugh have agreed to testify. If the Committee does end up voting in Kavanaugh's favor, the nomination would then go before the full Senate.
[Image via BRENDAN SMIALOWSKI/AFP/Getty Images]
Have a tip we should know? [email protected]