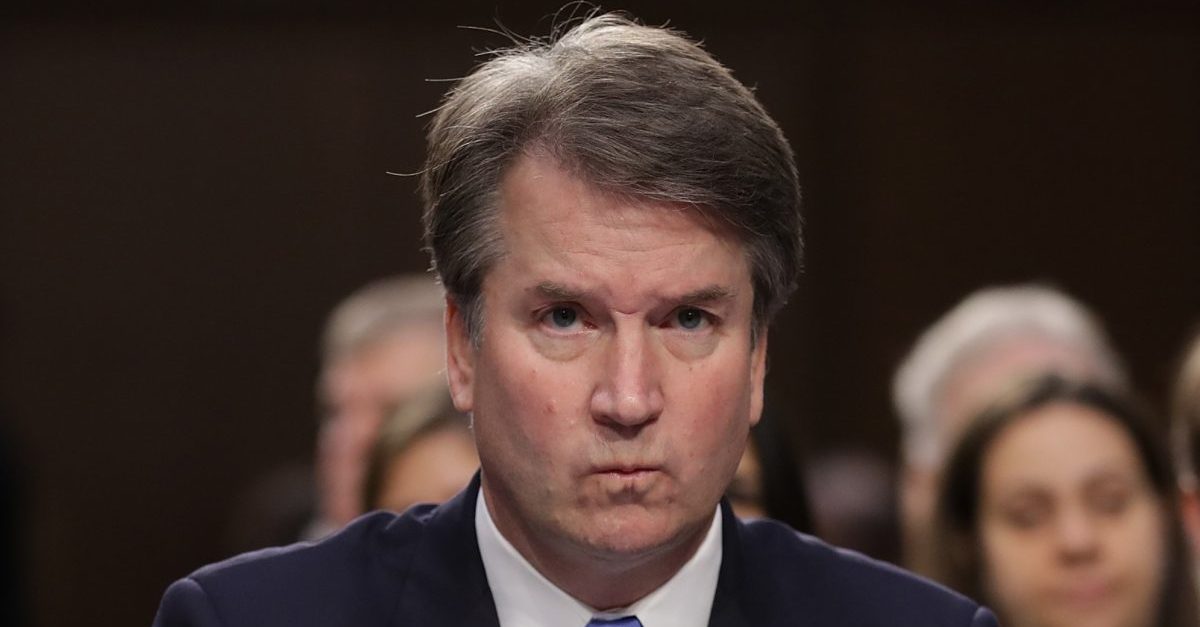 At least one defender of President Donald Trump's Supreme Court nominee Brett Kavanaugh believes it won't be long until the embattled judge is exonerated of wrongdoing and confirmed to his post. Kavanaugh has, of course, been named by Dr. Christine Blasey Ford as the person who attempted to sexually assault her at a party in high school.
Kavanaugh has categorically denied this and we are still waiting to see what will happen with a hearing that was scheduled to take place before the Senate Judiciary Committee on Monday. Ford and her legal team have requested an FBI investigation of her allegation in advance of a hearing.
Irrespective of all the hearing speculation, Ed Whelan, the president of conservative think tank the Ethics and Public Policy Center (EPPC), made a bold prediction on Twitter that "compelling evidence" would exonerate Kavanaugh next week.
"By one week from today [it was Sept. 18] I expect that Judge Kavanaugh will have been clearly vindicated on this matter. Specifically, I expect that compelling evidence will show his categorical denial to be truthful," Whelan tweeted on Tuesday. "There will be no cloud over him."
Whelan, a Kavanaugh defender, later added a couple of cryptic tweets.
"It's precisely b/c sexual assault is so terrible that it is deeply unjust when someone is mistakenly (even good-faith mistakenly) accused of having committed it," he said. "Everyone should rejoice when the mistake is found."
Is Whelan implying that Christine Ford has mistaken Kavanaugh for someone else ? Sen. Orrin Hatch (R-Utah) recently suggested, to the dismay of some, that this might be the case when he said Ford might be "mixed up."
Whelan did link to a Yahoo story saying this may be a case of "mistaken identity."
We reached out to Whelan and he did not respond to the inquiry.
Whelan's initial comment and ensuing ones are just now gaining traction.
He said that Sen. Dianne Feinstein (D-Calif.) would "soon be apologizing" to Kavanaugh and that Kavanaugh's "suffering […] will be shown to have been deeply unjust."
It is notable that Whelan is opposed to the requested FBI investigation, opposed to a subpoena of alleged witness Mark Judge, and opposed to the delay of Monday's planned hearing.
It's also notable that Whelan once clerked for deceased Supreme Court Justice Antonin Scalia. Whelan's also a long-time friend of Kavanaugh's.
Here's how he has described his relationship with the SCOTUS nominee:
I'll add here that I am grateful to count Brett Kavanaugh as a friend. I've known him for some 25 years and have worked with him both in the private sector and in government, including in the early years of the George W. Bush administration, when I was principal deputy in DOJ's Office of Legal Counsel and Kavanaugh worked in the White House. My high regard for him gives me additional motivation to refute the smears against him. But as you will see, my arguments stand on their own and do not depend on my personally attesting to his character.
According to Politico, Whelan has told "at least three associates" that he is "close to 100 percent" confident that what he says is true.
This has been met with some skepticism.
Whelan was hailed by National Review editor Rich Lowry as "the model of careful, discerning legal analysis and commentary," which is why "all of us who know him take everything he says and writes so seriously."
He wasn't the only one to vouch for Whelan.
[Photo by Chip Somodevilla/Getty Images]
Have a tip we should know? [email protected]