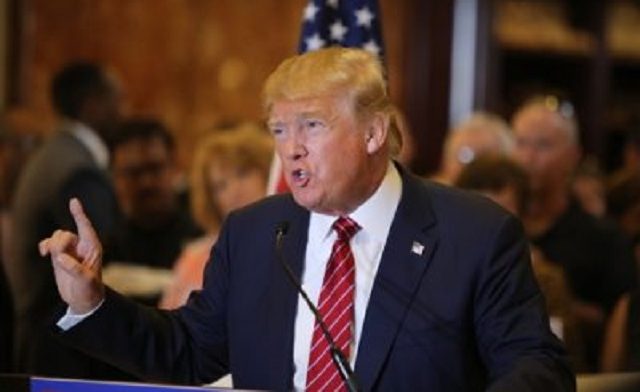 Early Tuesday morning, President Donald Trump posted a series of tweets touching on a variety of topics ranging from healthcare to Hillary Clinton. One of the posts took aim at acting FBI Director Andrew McCabe, blaming him for not being tough on Clinton because she's given him money. Soon after, Professor Richard Painter, a former White House ethics attorney under the George W. Bush administration, called out the President for the "baseless accusation," and suggested that McCabe take legal action.
Baseless accusation to intimidate the FBI. McCabe should sue. https://t.co/EJCJL7j4tq

— Richard W. Painter (@RWPUSA) July 25, 2017
Trump's previous tweet said that Attorney General Jeff Sessions was "VERY weak" on "Hillary Clinton crimes." The next one said that it's really McCabe's fault, as the one in charge of the Clinton investigation. The tweet explained that McCabe had received $700,000 from Clinton for his wife.
This accusation appears to stem from a report that Democratic Virginia Governor Terry McAuliffe—who has ties to the Clintons— gave $500,000 to Jill McCabe's 2015 Virginia State Senate campaign, and that the Virginia Democratic Party gave $207,788.  While this did result in an investigation by the Justice Department's Inspector General of McCabe's involvement with the Clinton email probe and if there were any conflicts of interest, the report did not say anything about Andrew McCabe himself getting money from Hillary Clinton, as President Trump claimed.
Painter said that Trump posted that tweet in order "to intimidate the FBI," and said that McCabe should sue him over it. He then tweeted that current nominee for FBI Director, Christopher Wray, should not be confirmed until he speaks out against Trump's claim.
Wray should not be confirmed until he publicly repudiates Trump's false accusation against McCabe and the FBI

— Richard W. Painter (@RWPUSA) July 25, 2017
Painter explained in an email to LawNewz.com that McCabe could sue Trump for defamation. As it turns out, McCabe may have a decent case against the President. After all, Trump made a statement accusing McCabe of being dishonest and not worthy of his job, based on a story that appears to have little factual basis. While McCabe's wife may have received money from a Clinton associate, that's very different from saying that Clinton gave more than half a million dollars to McCabe himself. As President, Trump would have every opportunity to know the facts, and unless there was a separate donation where Clinton did give McCabe all that money, this appears to be a case of Trump making a statement that he either knows is not really true or that was made with reckless disregard for the truth.
[Image  via a katz/Shutterstock]
Have a tip we should know? [email protected]