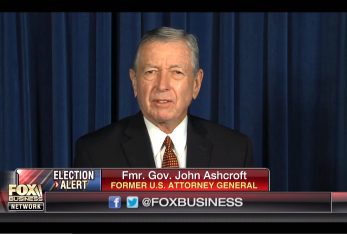 State Department Undersecretary for Management Patrick Kennedy is under fire after newly released FBI documents show he was accused of offering a quid pro quo to FBI agents during the Clinton email probe.  Investigation documents show witnesses told FBI agents that Kennedy offered his help at the State Department to get more FBI agents placed overseas in exchange for the Bureau agreeing to declassify some of the emails uncovered on Clinton's server.
The FBI and the State Department have pushed back against the story, releasing statements that deny any changes were made to the email classifications.  However, former Attorney General John Ashcroft is now weighing in on the matter and saying whether the email was ultimately changed is irrelevant.  In his opinion, Kennedy could be charged with a crime simply for suggesting the exchange offer.
"Offering a public official a benefit in return for the public official making a concession of some kind is illegal," Ashcroft said in an interview on FOX Business Network.
WATCH:
Ashcroft further explained that it could still be considered corruption and bribery even if the public official asked to do something that is not illegal.
"And not only is it illegal if you're asking a public official to do something illegal, it can be bribery if you offer a public official an incentive, a benefit, in order to do something that is legal."
Tying it all back to the allegations against Patrick Kennedy, Ashcroft said he believes the allegations against Kennedy would clearly constitute illegal conduct, and he believes the circumstances may suggest it was part of larger effort to deceive Congress and the American people.
"To change the classification of a document which is under subpoena by the United States Congress is asking someone to do something which I believe is illegal in an effort to defraud the Congress by providing false information," Ashcroft said.
He then added, "And secondly, really, I think given the context we're in, it's probably an effort to defraud the American people, contaminate their judgment in an election by altering the facts of something that most people think is relevant to this political campaign."
[image via screengrab]
Have a tip we should know? [email protected]