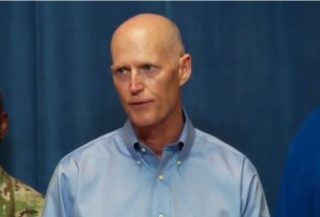 The voter registration deadline in Florida is this Tuesday, October 11. That could be problematic for people who have yet to register, but had to evacuate their homes last week due to Hurricane Matthew. On Sunday, the Florida Democratic Party filed a lawsuit in federal court seeking an extension. On October 6, Governor Rick Scott, named as a defendant in the suit along with Florida Secretary of State Ken Detzner, ordered the evacuation and that same day announced that he was not extending the registration deadline.
Florida, the complaint says, does not allow online voter registration or election day registration like some states. The only way to register is to deliver a paper application in person or through the mail. However, the state Democratic Party says, "Hurricane Matthew tore through Florida with 130-mile-per-hour winds, destroying roads and bridges," with more than 1 million people losing power. The lawsuit also mentions that postal service in certain areas has been suspended, and that relevant state offices were closed towards the end of last week, which would have prevented in-person registration. Nevertheless, the complaint quotes Gov. Scott as saying that he won't extend the deadline because "everybody's had a lot of time to register."
Governor Scott had given stern warnings to residents prior to the storm, saying that people were certain to lose power during the storm. "No excuses, get out," he said to those under evacuation orders. "This is about saving your life."
The party argues that younger voters and minorities are more likely than Republicans to register close to the deadline, which they claim will hurt Democrats in particular. Scott is a Republican. They similarly argue that not extending the deadline will have a disproportionate impact on minorities, violating the Voting Rights Act of 1965.
The lawsuit ultimately asks the court to keep the state of Florida from enforcing the current deadline, and extending the registration period.
When LawNewz.com asked Governor Scott's office about the lawsuit, a spokesperson said, "We are reviewing it."
Florida Democratic Party Complaint by LawNewz on Scribd
[Image via screengrab]
Have a tip we should know? [email protected]