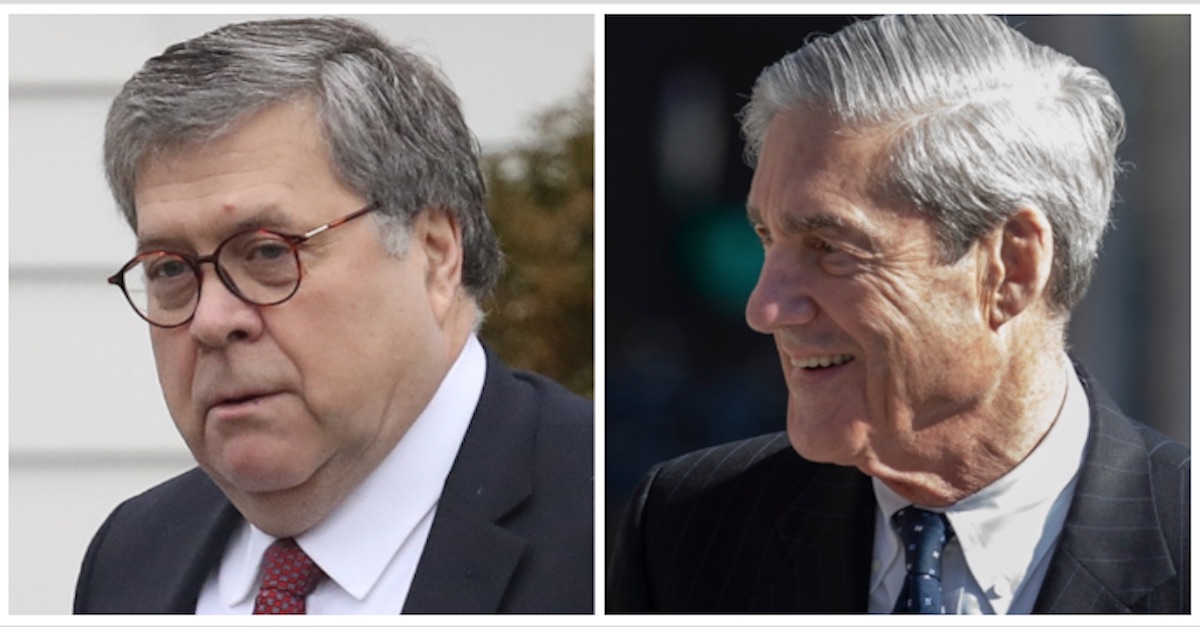 Attorney General William Barr sent a letter on Friday to Senate Judiciary Chairman Sen. Lindsey Graham (R-S.C.) and House Judiciary Committee Chairman Rep. Jerrold Nadler (D-N.Y.) in which he identified the next steps for handling Special Counsel Robert Mueller's Russia report.
Over the course of the letter Barr addressed some key questions, including: What will be redacted and why; whether President Donald Trump's executive privilege concerns will be taken into account before the report is released; whether the AG's four-page summary was "exhaustive"; how long the report will be (not including exhibits), who will get to read the Mueller report and when it is expected to be released; whether Mueller is involved in the current process; and whether Barr will testify about his handling of the confidential report required by current special counsel regulations.
What Will Be Redacted and Why
Specifically, we are well along in the process of identifying and redacting the following: 1) material subject to Federal Rule of Criminal Procedure 6(e) that by law cannot be made public; 2) material the intelligence community identifies as potentially compromising sensitive sources and methods; 3) material that could affect other ongoing matters, including those that the Special Counsel has referred to other Department offices; and (4) information that would unduly infringe on the personal privacy and repetitional interests of peripheral third parties.
In summary, that means you won't see things related to ongoing investigations (grand jury stuff), identification of intel sources and methods, information that can't be released by law, and information that "unduly" prejudices uncharged individuals. Deputy Attorney General Rod Rosenstein has long emphasized the last point.
Barr also confirmed that the "Special Counsel is involved" in the redaction process.
Does President Donald Trump Have a Say in This?
Trump and his attorney Rudy Giuliani have of late ramped up their usage of the term "executive privilege" and said that they should get to review the Mueller report before it goes public to make privilege recommendations.
It does not appear, at least right now, that this is a factor at play. Interestingly, Barr reminded Trump he has this right to assert privilege over "certain parts of the report," but that there aren't any plans to give the report to the White House to make privilege recommendations.
"Although the President would have the right to assert privilege over certain parts of the report, he has stated publicly that he intends to defer to me and, accordingly, there are no plans to submit the report to the White House for a privilege review," Barr said.
What Was the Deal with That Four-Page Summary from Last Weekend?
Barr confirmed on Friday that he received the Mueller report and expected to speak on the report's "principle conclusions" as soon as the weekend. When Sunday came and Barr released a summary, it said: Mueller has no more indictments, Mueller did not allege conspiracy between President Donald Trump/Trump campaign and the Russian government, and Mueller didn't exonerate Trump of obstruction of justice but didn't allege it either.
The length of the summary, how quickly it was produced, and the fact that there were no conspiracy charges led to a bit of a frenzy.
Barr told lawmakers that he thought it went without saying that this was not an "exhaustive" account of Mueller's investigation.
"As my letter made clear, my notification to Congress and the public provided, pending release of the report, a summary of its 'principal conclusions'–that is, its bottom line," he said.
How Long Is the Report, What's in it and When Will We See it?
Previous reporting indicated that the Mueller report would be 300-plus pages in length, not counting exhibits or appendices. Barr said Friday that it is "nearly 400 pages long (exclusive of tables and appendices) and sets forth the Special Counsel's findings, his analysis, and the reasons for his conclusions."
Barr said that "everyone will soon be able to read it on their own" and that he doesn't not believe its in the public's best interest for him to "attempt to summarize the full report or to release it in serial or piecemeal fashion."
The AG said to expect the report mid-April, "if not sooner."
What Will Happen When the Report Is Made Public and the Ensuing Weeks?
Barr said that his plan is to make the Mueller report public after delivering it Congress.
"Finally, in the interests of keeping the public informed as to these matters, I intend to make this letter public after delivering it to you," he said.
Barr also volunteered to testify before Congress "shortly after" the report goes public. He said can testify before the Senate Judiciary Committee on May 1 and the House Judiciary Committee on May 2.
[Images via Win McNamee/Getty Images, Tasos Katopodis/Getty Images]
Have a tip we should know? [email protected]