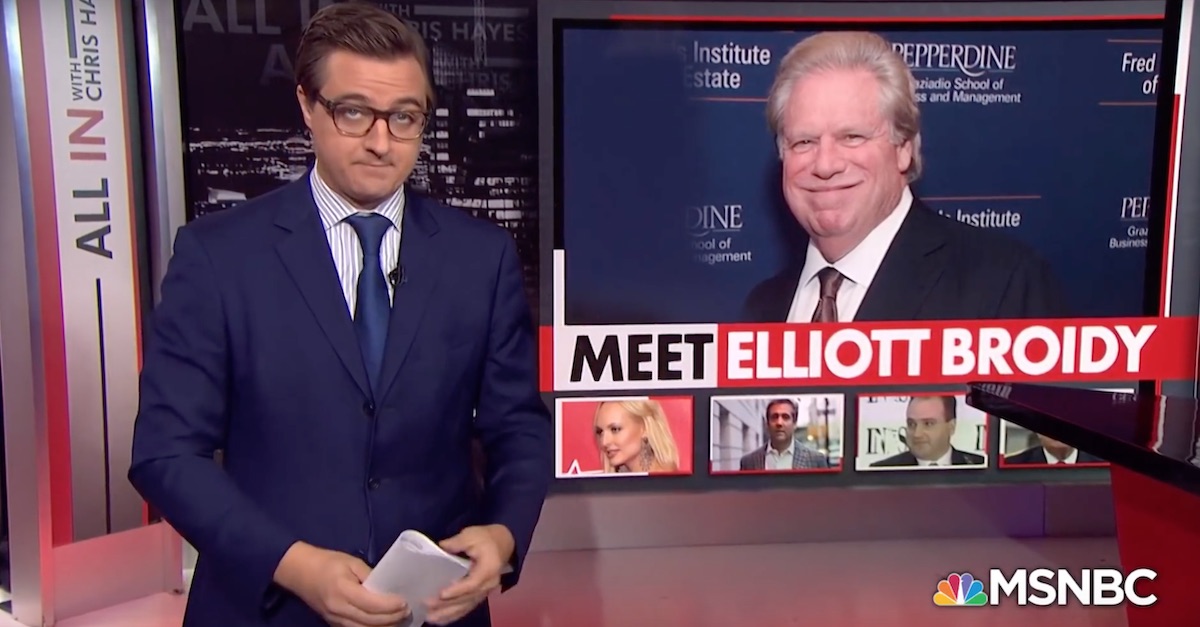 The office of a former finance chairman for the Republican National Committee (RNC) was raided over the summer of 2018 because federal authorities were interested in investigating possible crimes of conspiracy, money laundering and foreign lobbying violations. That's what a search warrant–issued for the express purpose of finding out what Elliot Broidy was up to with China, Saudi Arabia, and others–reportedly had to say.
Although it was previously known that Broidy got a visit from government investigators last August, ProPublica reported with more specificity on Monday about what happened and why.
The feds sought and seized Broidy's records of foreign dealings; they also had approval to force Broidy to unlock his phones. The search warrant dates back to July 2018. Here's what the feds were reportedly looking for:
They planned to seize any evidence related to a list of dozens of people, countries and corporate entities, according to the warrant. Among the names on the list are Rick Gates, the former Trump campaign official who has pleaded guilty in the Mueller probe; Colfax Law Office, the firm founded by Robin Rosenzweig, Broidy's wife; and several foreign countries.
Well, well, if it isn't Rick Gates — former Paul Manafort associate, former Trump campaign deputy chairman, the so-called "shadow chair" of the Trump inaugural committee and a cooperating witness of Robert Mueller's who is still assisting with "several ongoing" investigations.
Foreign countries, with whom Broidy had allegedly had a connection of interest to the feds, included: China, Saudi Arabia, and the United Arab Emirates.
The feds reportedly wanted to ask questions about a Maylasian businessman who was on the run across China and accused of embezzling billions. Back in April 2018, it was reported that Jho Low, the fugitive in question, was being investigated for laundering millions of dollars from 1Malaysia Development Berhad (1MDB), "through two associates,"  identified as Phengphian Laogumnerd and Pras Michel.
The Justice Department wanted to know if the two played roles in helping Low make payments to pay his U.S. legal team. That legal team includes names like Chris Christie, longtime Trump attorney Marc Kasowitz, and Bobby Burchfield. Burchfield has reportedly advised the Trump Organization on ethics.
Broidy admitted he and his wife "provide[d] strategic advice as part of a broader team to Mr. Low." Second, the feds wanted to seize records about Chinese businessman Guo Wengui, who accused the Chinese government of corruption after running away to the U.S.
Broidy allegedly sought to use Wengui's plight as a way of pacifying the Chinese government. The purported idea: give China Guo, get China approval, get a cash windfall.
Finally, investigators wanted to know if Broidy and George Nader (another Mueller witness) encouraged the Trump White House to make deals that would benefit Saudi Arabia and the UAE for a shot at up to a billion dollars in contracts. Broidy didn't respond to this story but has said he hasn't "been compensated by any foreign government for any interaction with the United States Government, ever."
Broidy, you may remember, resigned in April 2018 after it was reported that ex-Trump attorney Michael Cohen facilitated a $1.6 million hush payment of Playboy playmate Shera Bechard. Broidy later admitted to having an affair, but denied "malicious" allegations made in a lawsuit over a non-disclosure agreement.
"This person [Bechard] tried to extract money from me by making up false, malicious and disgusting allegations. I have acknowledged making the mistake of having an affair, and I entered a confidential agreement to protect my family's privacy," he said. "I honored my agreement until her lawyer breached it—and then, when I failed to pay her demands, she did what blackmailers do and went public with her lies. I will vigorously defend myself against these false and defamatory allegations, and I will seek all relief available to me under the settlement agreement against her and her attorneys."
Cohen and Broidy both served as deputy finance chairmen at the RNC.
[Image via MSNBC screengrab]
Have a tip we should know? [email protected]