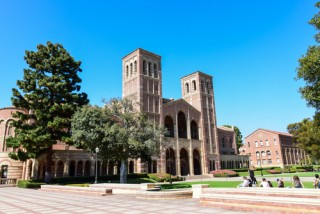 U.S. Secretary of Education John King Jr. spoke at UCLA on Monday, recommending that colleges and universities no longer ask about applicants' criminal histories. The reasoning, the Department of Education said, is that these questions might keep students from applying.
"The college admissions process shouldn't serve as a roadblock to opportunity," King said, "but should serve as a gateway to unlocking untapped potential of students."
The DOE released a guide, called "Beyond the Box: Increasing Access to Higher Education for Justice-Involved Individuals," that offers guidance for professionals in grappling with these issues. It provides statistics regarding how minorities are particularly effected by asking about criminal history, as well has how people who may otherwise be excellent candidates stop filling out applications when they come across that question. Additional information aims to provide understanding when it comes to the development of young people, as well as how many people take plea bargains without considering potential long-term repercussions.
A teacher with seven years' experience in inner-city high schools told LawNewz.com that it was common for students who had committed minor offenses like trespassing or having an ounce of marijuana to be worried about college. "I saw high-need, low-level offenders discouraged from applying to college because of fear that their record would stand against them," she said.
The Beyond the Box guide encourages schools that feel the need to ask about criminal history to wait until later in the admissions process so that students aren't discouraged right away. It also suggests targeted questions that focus on more recent activity, types of crimes, convictions instead of arrests, and including disclaimers to let applicants know what types of information are not necessary to disclose.
UCLA does not ask about criminal history at all on their applications, according to University of California President Janet Napolitano. "I believe there are better ways to ensure campus safety than stigmatizing those who are trying to better their lives through higher education."
[image via Shutterstock]
Have a tip we should know? [email protected]