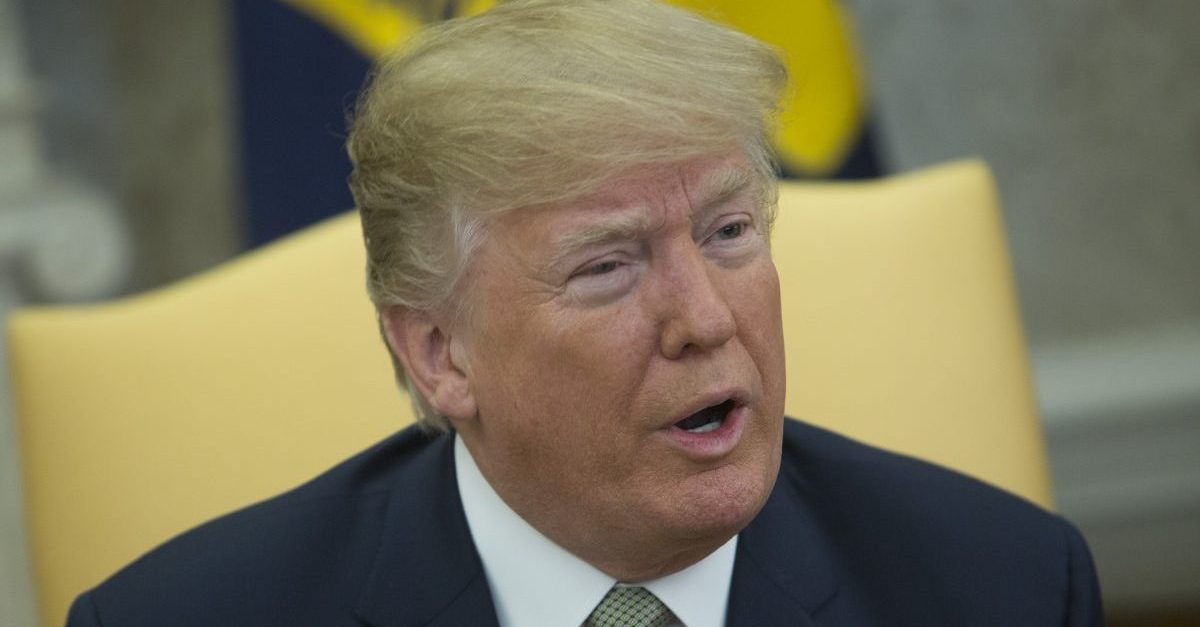 Federal investigators looking into President Donald Trump's former lawyer Michael Cohen have been digging into payments made to women who claimed to have had affairs with Trump in the past. Now, it appears that American Media Inc., the publisher of the National Enquirer who made one of those payments, could be in trouble as well, according to The New York Times.
In 2016, A.M.I. paid former Playboy model Karen McDougal $150,000 for her story about a relationship she said she had with Trump from 2006 to 2007. The deal gave A.M.I. the rights to the story, which they chose to sit on, effectively keeping the allegations under wraps. The deal also included an arrangement for McDougal to publish columns in A.M.I.'s publications, which she claims they did not fulfill.
Prosecutors are now looking at whether A.M.I.'s behavior crossed the line from journalism into political activity, given that they spent money on something that is believed to be for the benefit of Trump's campaign. McDougal, in a lawsuit, claims that her attorney at the time, Keith Davidson, had been in touch with Cohen regarding the status of the agreement.
If A.M.I. and Cohen were working together for the Trump campaign's benefit, that could put the publisher in jeopardy for possibly violating campaign finance law. The payment for McDougal's story–and her silence–could be viewed as an in-kind contribution, well beyond the maximum amount allowed. Cohen is reportedly already being looked at for a possible similar violation regarding a payment he made to Stormy Daniels.
Additionally, if A.M.I. was working in coordination with Trump himself, that could be in violation of a prohibition against corporations coordinating with campaigns.
McDougal's deal drew renewed attention due to a conversation with Trump the attorney recorded. In that discussion, they reportedly discussed A.M.I.'s payment to McDougal, and whether Trump himself should buy the rights from the publisher, which he ultimately did not do. Reports of this conversation raised concerns that Trump knew about the payment at the time it was made.
Sources told the Times that the feds are concerned that A.M.I.–whose chairman David Pecker is a friend of Trump–was not always engaged in a "legitimate press function." Earlier this year, they subpoenaed A.M.I. executives without warning, a rare move when dealing with the media. The company was compliant.
"A.M.I. respects the legitimate law enforcement activities by prosecutors in the Southern District of New York," A.M.I. attorney Cameron Stracher said. He defended the company, saying they have "asserted and will continue to assert its First Amendment rights in order to protect its news-gathering and editorial operations."
[Image via Chris Kleponis-Pool/Getty Images]
Have a tip we should know? [email protected]