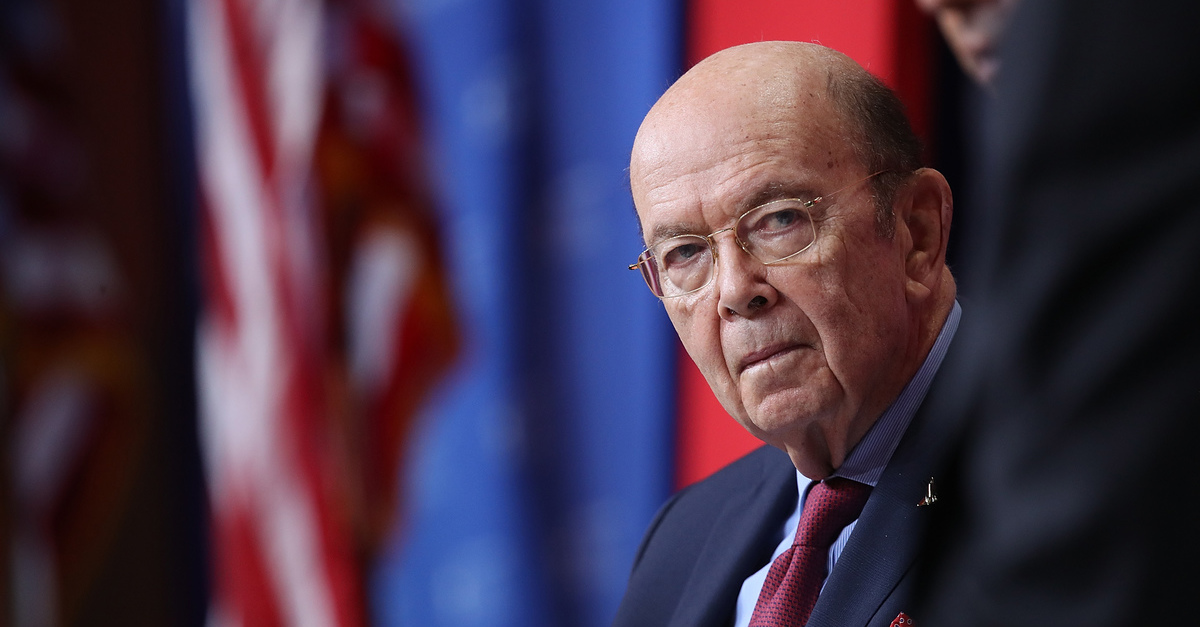 The Trump administration suffered a massive blow in court Tuesday morning, when a federal judge foreclosed against the White House's planned inclusion of a citizenship question on the 2020 census. U.S. District Judge Jesse M. Furman ruled in favor of several plaintiffs seeking to have that controversial question kept off next year's census forms.
Across a sprawling 277-page ruling against Secretary of Commerce Wilbur Ross and others, Judge Furman found that the Trump administration's attempt to include the citizenship question was in violation of the law itself. Judge Furman noted:
Congress has delegated to the Secretary broad discretion over the conduct of the census. Critically, however, that discretion is not unlimited and, in opting to add the citizenship question to the 2020 census questionnaire in the manner that he did, Secretary Ross violated two of those limits. First, and most blatantly, he violated the mandate in Section 6(c) of the Census Act to "acquire and use information" derived from administrative records "instead of conducting direct inquiries" to the "maximum extent possible." And second, he did not include citizenship as a subject to be included on the 2020 census questionnaire in a report to Congress, as required by Section 141(f) of the Census Act.
Beyond that, Judge Furman's ruling also found that Ross' attempt to include the citizenship question was both "arbitrary and capricious." This designation invokes terms of art from the somewhat byzantine realm of U.S. administrative law. Specifically, Judge Furman ruled that the Administrative Procedure Act (APA) of 1946 was violated on numerous occasions during the course of decision-making that led Ross to try and include the citizenship question.
"First, in a startling number of ways, Secretary Ross's explanations for his decision were unsupported by, or even counter to, the evidence before the agency," Furman noted. "For instance, he sought to justify his decision on the ground that 'no one provided evidence that reinstating a citizenship question on the decennial census would materially decrease response rates.' But that assertion is simply untrue. The Administrative Record is rife with both quantitative and qualitative evidence, from the Census Bureau itself, demonstrating that the addition of a citizenship question to the census questionnaire would indeed materially reduce response rates among immigrant and Hispanic households."
Judge Furman also determined that Ross failed to justify why he wanted to do things differently this time around.
"As if that were not enough, Secretary Ross's decision was also arbitrary and capricious because, in multiple ways, it represented a dramatic departure from the standards and practices that have long governed administration of the census, and he failed to justify those departures," the court's opinion continues.
Not quite done, however, the ruling also finds that Ross falsely stated his reasons for attempting to include the citizenship question.
The ruling helpfully contains a brief bit of history on the how the question was allegedly conceived:
On March 26, 2018, Secretary of Commerce Wilbur L. Ross, Jr. announced that he was reinstating the citizenship question on the 2020 census questionnaire, purportedly in response to a request from the Department of Justice ("DOJ") for better citizenship data to assist in its enforcement of Section 2 of the Voting Rights Act of 1965 ("VRA"). He did so over the strenuous objections of the Census Bureau itself, which warned that adding a citizenship question would harm the quality of census data and increase costs significantly and that it would do so for no good reason because there was an alternative way to satisfy DOJ's purported needs that would not cause those harms.
Later on, Judge Furman points out that Ross' excuse wasn't true.
"Finally, and perhaps most egregiously, the evidence is clear that Secretary Ross's rationale was pretextual—that is, that the real reason for his decision was something other than the sole reason he put forward in his Memorandum, namely enhancement of DOJ's VRA enforcement efforts," Judge Furman notes. "…that conclusion is supported by evidence in the Administrative Record alone, including evidence that Secretary Ross had made the decision to add the citizenship question well before DOJ requested its addition in December 2017."
[Image via Win McNamee/Getty Images]
Have a tip we should know? [email protected]