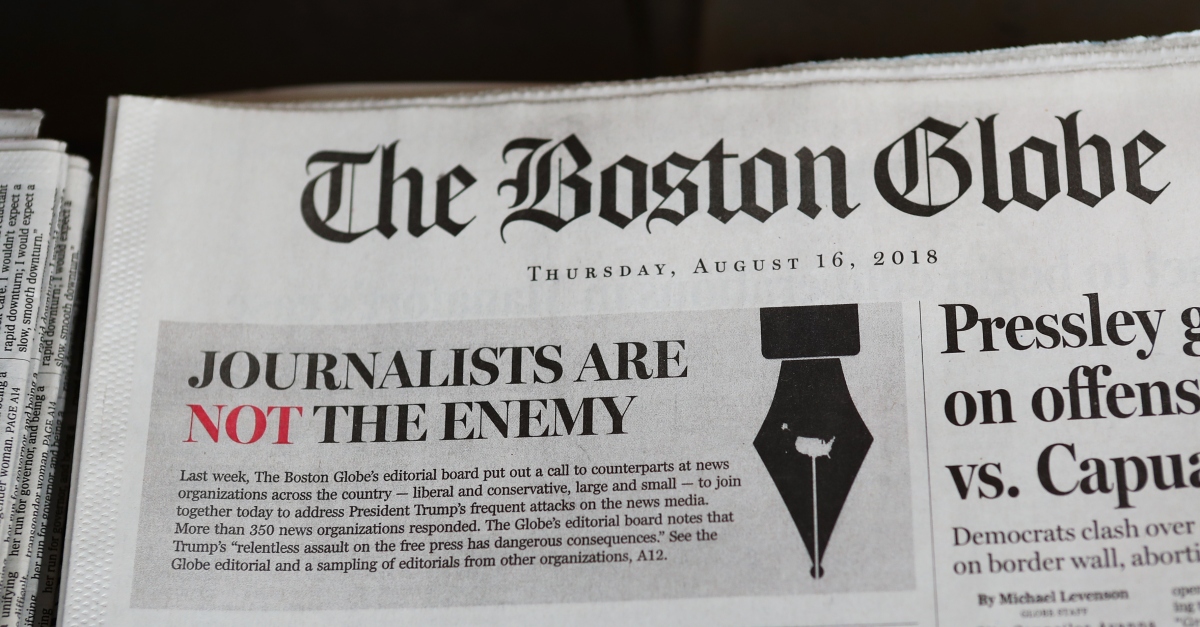 The man who allegedly evoked Trump's language in his threat to the Boston Globe owns guns, according to the Federal Bureau of Investigation. A whole lotta guns.
UPDATE: The FBI stated in court this afternoon that 20 guns were found at the home, @DavidDouglasTV reports. https://t.co/i94NeVX7Ql

— Tom Winter (@Tom_Winter) August 30, 2018
California man Robert D. Chain, 68, was arrested Thursday for the alleged threats, said the Department of Justice. The Globe had been calling on other news organizations to publish coordinated responses to President Donald Trump's constant criticism of the press. According to prosecutors, Chain called the Globe's newsroom 14 times between August 10 and August 22. The DOJ singled out an August 16 threat in which Chain allegedly promised to shoot the outlet's employees in the head, "later today, at 4 o'clock."
"You're the enemy of the people, and we're going to kill every fucking one of you," said the transcript obtained by NBC. "Hey, why don't you call the F [sic], why don't you call Mueller, maybe he can help you out buddy. Still there faggot? Alright, why, you going to trace my call? What are you going to do motherfucker? You ain't going to do shit. I'm going to shoot you in the fucking head later today, at 4 o'clock. Goodbye."
Chain whipped out the "enemy of the people" insult in multiple conversations, said the DOJ. The phrase is a favorite of the president's. Trump is known to call out media outlets that publish negative coverage about his administration.
I just cannot state strongly enough how totally dishonest much of the Media is. Truth doesn't matter to them, they only have their hatred & agenda. This includes fake books, which come out about me all the time, always anonymous sources, and are pure fiction. Enemy of the People!

— Donald J. Trump (@realDonaldTrump) August 30, 2018
Chain faces one count of making threatening communications in interstate commerce. It is unclear if he has an attorney at this time. A few major elements will complicate whatever defense he puts up.
First, there's the recent shooting at the Capital-Gazette. This incident took the lives of five staffers. A man with a years-old grudge against the outlet was arrested.
Here's how Attorney Ken White put its significance:
Yes. It figures in to the objective component of the true threat test: would a reasonable person interpret the threat to come shoot up the newsroom as a sincere expression of intent to do harm? A recent instance makes it more objectively reasonable.

— LiterallySlanderHat (@Popehat) August 30, 2018
In other words, this context could work against Chain. And, well, there's the matter of all those guns allegedly found at his home.
"Everyone has a right to express their opinion, but threatening to kill people, takes it over the line and will not be tolerated," said Harold H. Shaw, the Special Agent in Charge of the Federal Bureau of Investigation's Boston Division. "Today's arrest of Robert Chain should serve a warning to others, that making threats is not a prank, it's a federal crime."
[Image via Tim Bradbury/Getty Images]
Have a tip we should know? [email protected]