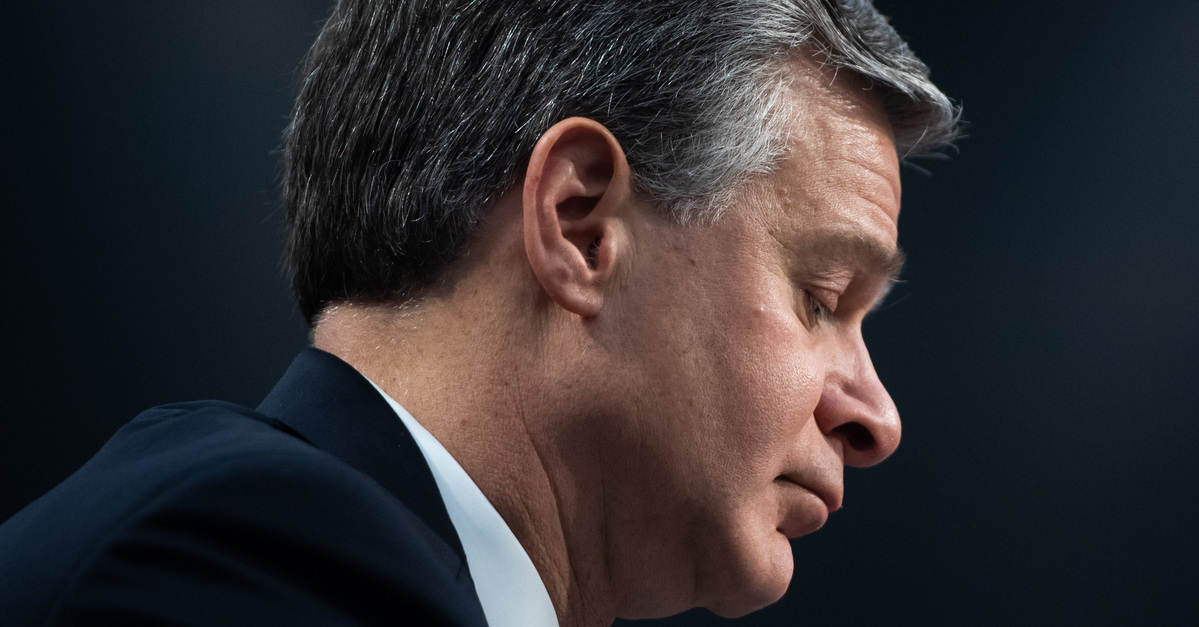 Federal Bureau of Investigation (FBI) Director Christopher Wray believes white supremacy poses a "persistent" and "pervasive" threat to the United States–in sharp contrast to the occasional "both sides" rhetoric emanating from the White House on issues of white nationalist and white supremacist violence.
Wray's remarks came during a Thursday hearing in front of the House Appropriations Committee under an official agenda related to the FBI's budget request for the 2020 fiscal year.
Rep. José E. Serrano (D-N.Y.) grilled Wray on the extent of the FBI's dedication–or perceived lack thereof–to the threat posed by white identity-based terrorism. Law enforcement experts have spoken out before about deficiencies when it comes to addressing the threat of far-right terrorism.
"How would you describe the danger to public safety that is posed by white supremacist extremism?" Serrano asked "Is it changing in its qualities or in the kind of resources that the FBI and other law enforcement agencies need to respond?"
To which the FBI director replied:
The danger, I think, of white supremacists, violent extremism or any other kind of extremism is of course significant. We assess that it is a persistent, pervasive threat. We tackle it both through our joint terrorism task forces on the domestic terrorism side as well as through our civil rights program on the criminal side through hate crime enforcement.
"As to whether I would see any significant difference or trend there or to whether it's changing: I would say that in general domestic terrorism in this country has changed in the sense that it's less structured, less organized, fewer groups, more uncoordinated, one-off individuals as opposed to some structured hierarchy and that presents its own share of challenges," Wray continued. "But certainly we tackle it through agents, analyst, professional staff and technology."
Earlier on, addressing Rep. Grace Meng (D-N.Y.)–who claimed that hate crimes have ticked up during the presidency of Donald Trump–Wray said that reports had certainly increased but that such reported statistics didn't necessarily mean the overall numbers of hate crimes were on the rise.
"We are determined not to tolerate hate-filled violence in our communities, so we're going to aggressively investigate those cases," Wray added.
[image via SAUL LOEB/AFP/Getty Images]
Have a tip we should know? [email protected]