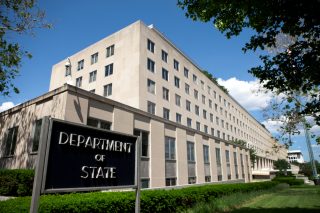 An employee at the U.S. State Department appeared in federal court on Wednesday where she will face charges as the result of a FBI counterintelligence investigation.
According to two authorities who spoke with Reuters,  the employee, Candace Claiborne, served in the section responsible  for handling Caucus Affairs.
Claiborne was also be charged with lying to FBI officials, according to a DOJ press release.
"Candace Marie Claiborne is a U.S. State Department employee who possesses a Top Secret security clearance and allegedly failed to report her contacts with Chinese foreign intelligence agents who provided her with thousands of dollars of gifts and benefits,"  Acting Assistant Attorney General McCord said in a statement obtained by LawNewz. "Claiborne used her position and her access to sensitive diplomatic data for personal profit. Pursuing those who imperil our national security for personal gain will remain a key priority of the National Security Division."
The further alleges complaint alleges that Claiborne received numerous gifts from foreign agents in exchange for information she provided over several years.
She could face up to 25 years in federal prison if convicted on all counts.
[imagine via shutterstock]
Have a tip we should know? [email protected]