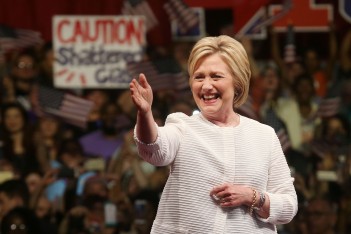 In a new government filing, the feds admit having obtained additional records from Clinton's private server and state they have properly withheld the records because they were "compiled for law enforcement purposes." The new information came in a DOJ reply in support of its motion for summary judgment in a FOIA lawsuit brought by Vice News reporter, Jason Leopold. Leopold is seeking correspondence between the FBI and Clinton referencing the Clinton email server.
In a document filed last month, Leopold's attorneys question whether the U.S. Department of Justice was properly withholding the emails from public disclosure. In its response, the government reiterates that it is withholding certain records that were compiled for law enforcement purposes.  Furthermore, it states it can satisfy that necessary standard without having to identify the "particular federal statute that [is] alleged to have been violated in connection with the pending investigation…."
The FBI has publicly stated that it is working on a referral from the Inspectors General of the Intelligence Community and the Department of State in connection with former Secretary of State Hillary Clinton's use of a private e-mail server….The referral was 'a security referral made for counterintelligence purposes." ….Records responsive to plaintiff's FOIA request were obtained or created by the FBI in furtherance of a pending investigation being conducted as a result of this referral.
In other words, the FBI has established its burden to withhold documents related to the Clinton investigation because they were obtained or created in furtherance of a pending investigation.  "And the referral from the Inspectors General to the FBI provided a rational nexus between the pending investigation and the FBI's law enforcement duties."  Meaning, what may have started as a referral is now a full investigation.
Finally, the FBI addresses Leopold's request by saying the disclosure of what it obtained off Clinton's server, thumb drive or other obtained devices "could reasonably lead to the public identification and compromising of potential witnesses, as well as defensive actions to conceal activities, elude detection, and/or suppress or fabricate evidence."
The filing makes it clear investigators have obtained additional materials off the Clinton server as noted in a footnote which reads, "All of the materials retrieved from any electronic equipment obtained from former Secretary Clinton for the investigation are evidence, potential evidence, or information that has not yet been assessed for evidentiary value."
A plain reading of the filing implies the FBI is conducting a full investigation after counterintelligence issues were initially raised by the Inspector General.
According to a recent interview with The Washington Post, Clinton said the FBI has not yet scheduled a time to interview her.
READ THE FBI FILING:
Leopold FOIA Clinton E-Mails Reply Memo
Editor's Note: This article was updated to include the last paragraph.
Have a tip we should know? [email protected]