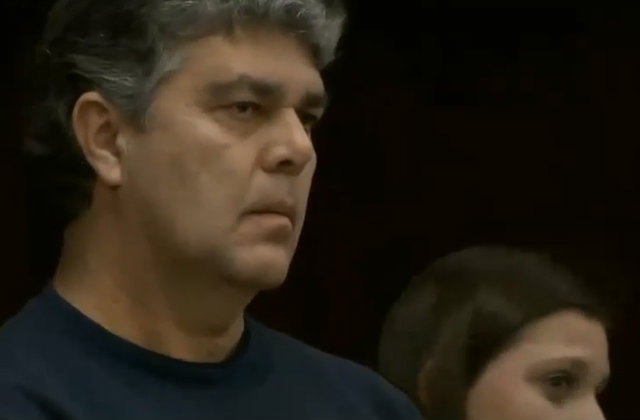 A lawyer for the man who attacked convicted abuser Larry Nassar says his client isn't keeping any of the money from well-wishers. Randall Margraves is taking the nearly $30,000 from an unauthorized GoFundMe page on his behalf, and he is giving it all to four organizations helping sexual assault survivors, attorney Mike Grewal told The Lansing State Journal.
The donations were meant to support him. Margraves, father of three girls sexually assaulted by Nassar, appeared in court for Nassar's sentencing in Eaton County, Michigan last month. As seen on video of his victim impact statement, he asked the judge for five minutes in a locked room with that "demon." The judge turned him down. He asked for one. She turned him down again, and Margraves rushed the defendant, though court officers tackled him to the ground before Nassar got hurt.
"I want that son of a bitch," Margaves can be heard yelling.
Still, the judge decided not the punish him for the outburst, and prosecutors declined to pursue a criminal case.
Grewal said his client is turning down media requests to talk, and just wants a quiet life out of the spotlight. An update on the GoFundMe page on Thursday said the money (under $30,000 after refunds) will be given to these organizations that benefit sexual assault survivors: The Firecracker Foundation, which provides children and teens with therapy; Small Talk, another therapy provider for children; RAVE (Relief After Violent Encounters), which provides counseling and emergency shelters; and EVE (End Violent Encounters), which helps survivors out with housing, legal issues, and other matters.
Nassar will spend the rest of his life in prison. The 54-year-old former disgraced former sports doctor was sentenced in December to 60 years in federal prison over child porn charges. Then came the two sentencing hearings in Michigan this year. He pleaded guilty after prosecutors said he used his position in US Gymnastics and Michigan State University to manipulate and sexually assault patients during what were supposed to be medical procedures.
Allegations concerning over a hundred woman and girls have been publicized. Only a small number of these claims have been formally adjudicated, but judges allowed women connected to other incidents to deliver victim impact statements. 156 were represented in the Ingham County hearing in January. Nassar received a sentence of 40-to-175 years in prison. In Eaton County, where Margraves rushed the "demon," Nassar was sentenced to 4o-to-125 years behind bars. A male gymnast, the first man to do so, also made sexual abuse claims against him in a recently amended lawsuit.
[Screengrab via Law&Crime Network]
Have a tip we should know? [email protected]