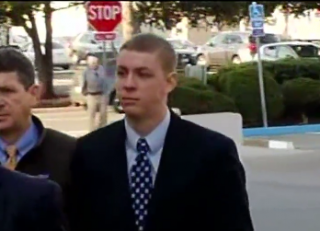 The father of Brock Turner, the 22-year-old Stanford University swimmer who was sentenced to 6-months in jail for sexually assaulting a woman outside a fraternity house, thinks his son's punishment is too harsh. Turner was spotted by two witnesses who saw him on top of the unconscious, intoxicated woman, now 23 years old, on a night in January 2015. They restrained him until police arrived. The woman didn't wake up until she was at the hospital.
Dan Turner, Brock's father, described the horrific incident in what some say was inconsiderate letter to the judge, hoping that his son could just get a slap on the wrist. The father said that six months in jail was "a steep price to pay for 20 minutes of action," according to the Huffington Post. As it is, Brock may only end up serving three months with good behavior, followed by three years' probation, and he'll be in county jail instead of state prison.
The young woman's victim impact statement has been published online, describing the ordeal that she went through. Dan Turner's letter appeared to take the opposite approach, trying to garner sympathy for the attacker who he claims is having trouble dealing with the consequences of his actions. "His every waking minute is consumed with worry, anxiety, fear, and depression," he wrote, while seemingly downplaying what his son did.
The elder Turner later tried to clarify his remarks, saying he used a poor choice of words in saying "20 minutes of action," and that he intended merely to highlight the brief time span of what had occurred, instead of describing the nature of what happened. Still, his letter didn't acknowledge that Brock committed an assault, saying that his son "has never been violent to anyone including the night of the Jan 17th 2015."
Normally, Turner's crime would have warranted a minimum of two years in jail, with lighter sentences being granted in unusual circumstances or no criminal record. Students, faculty, alumni, and parents wrote letters against the light sentence. District Attorney Jeff Rosen also weighed in, saying, "The predatory offender has failed to take responsibility, failed to show remorse and failed to tell the truth," adding, "The sentence does not factor in the true seriousness of this sexual assault, or the victim's ongoing trauma."
Have a tip we should know? [email protected]