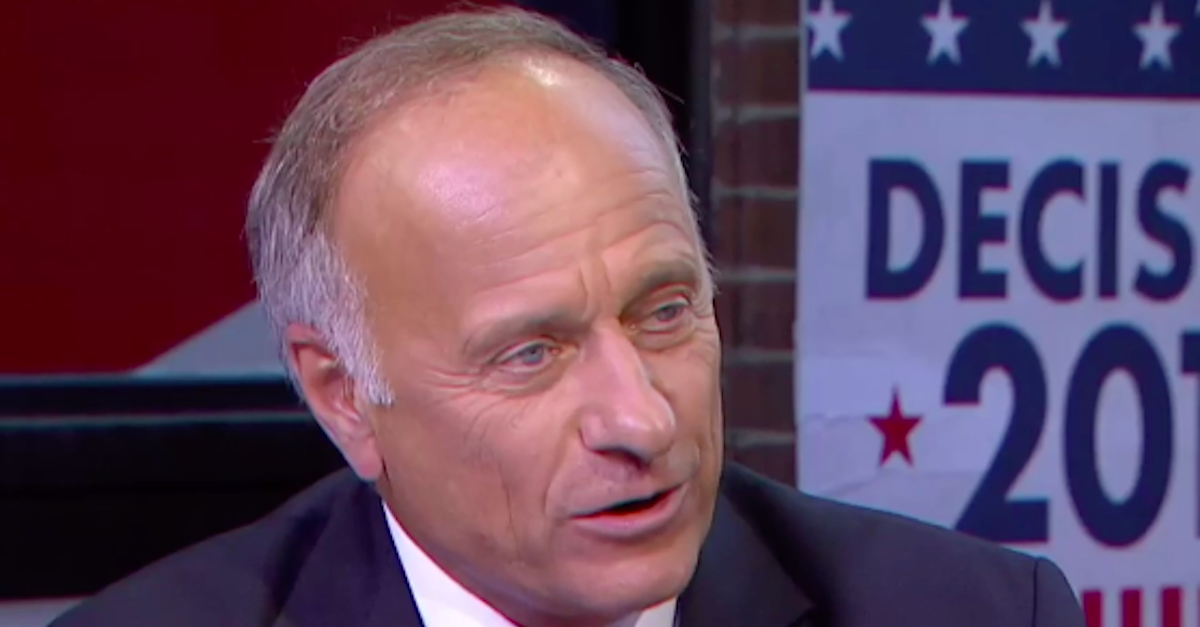 Far-right, white supremacist group Identity Evropa, which has been designated as a hate group, worked feverishly to keep Rep. Steve King (R-Iowa) in office, according to internal chat logs released Wednesday by an independent media organization.
Released by non-profit media collective Unicorn Riot, those chat logs reveal that several members of the white supremacist organization frequently donated to King's congressional campaign, called members of Congress to support King during media flare-ups and engaged in several attempts to contact King directly at his office.
The release contains more than "770,000 messages from chat servers associated with Identity Evropa," according to the outlet. "This is the first report in a series about this large US-based neo-Nazi organization. Newly leaked chat logs from the alt-right group Identity Evropa show a continuing dynamic of racism and fascism, despite ongoing attempts to reform their public image following the deadly 2017 'Unite the Right' rally in Charlottesville."
The searchable logs are available here. A Law&Crime search turned up 107 total references when using the search term "Steve King" but this does not account for additional references to "King" alone. The non-sophisticated nature of the search engine developed for the database, however, makes it difficult to account for such references. In other words, searching for "King" in isolation also turns up every word with a "-king" suffix like "talking," "f***ing," etc.
Throughout the chats, Identity Evropa members express their admiration for King's brand of white nationalism.
"Steve King is retweeting Mama Lana," one message notes–a reference to white nationalist Lana Lokteff. "He's gunning for the 2024 nomination and maybe we should get on the train early. We [sic] the new executive branch in waiting."
"Interested how Steve King and I came out with some pro-white quotes at almost the same time," another user says.
There are also entreaties for the group to go to bat for the Iowa congressman.
"I would encourage @everyone to make a donation, even if it's just $10, to Congressman Steve King's re-election campaign," another chat message reads. "Our opponents have turned their gaze upon him, and Conservative Inc has, predictably, abandoned him. We need to keep him in office. We need 100 Steve Kings in office. Call his office too and show your support."
The chat logs also reveal an obsession with rehabilitating the image of white supremacists, neo-Nazis and white nationalists–and explicitly acknowledge that King is an ally and fellow traveler.
One lengthy message taking up these themes reads:
The favorite slurs of the media for us are "neo-nazi" and "white supremacist." These evoke all that 1.0 baggage we want to shed– which is why they roll off our backs like water off a duck since we look/sound/feel nothing like 1.0. Contrast this with the term "white nationalist." To some people *in* the movement this term evokes that 1.0 image, but I suspect to most people *outside* the movement it does not necessarily evoke this image, in large part because it is being juxtaposed with the aforementioned extreme terms, and because guys like Steve King are getting labeled "white nationalist" by the media. For this reason I think we are seeing a normalization of the term, as was pointed out recently on FTN. Not saying we should ditch "identitarian" right now, but it will be interesting to see how public opinion of these terms evolves in the coming years.
Law&Crime reached out to King's office for comment, but no response was forthcoming at the time of publication.
[image via screengrab/MSNBC]
Have a tip we should know? [email protected]